Kenyan Legislators to Discuss Possible Withdrawal from the ICC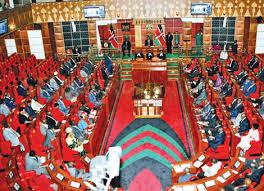 The Kenyan parliament will meet for an emergency session on Thursday to discuss whether the country should withdraw from the International Criminal Court. This follows a request by the leader of the majority in the Kenyan Senate, Kithure Kindiki.
The meeting comes a week before Deputy President, William Ruto, is set to appear at the Hague where he is facing three counts of crimes against humanity. He is accused of organizing the 2007-2008 post election violence which led to the death of at least 1,100 people and displaced more than 600,000.
Kenyan President, Uhuru Kenyattta, will also be tried at The Hague two months after his deputy's trial. He faces five counts of crimes against humanity including murder, rape, persecution, deportation and other inhumane acts.
Both parties have denied the charges but agreed to cooperate with the ICC. They have repeatedly called for the charges to be dropped claiming that they were politically motivated. The African Union, in May, accused the court of being biased against Africans because of their race. The court however continues to insist that it pursues justice impartially.
One of Kenya's legislators, Asman Kamama, who is supporting the bid to pull out from the ICC said "Any law in this country or internationally like the Rome Statute can be repealed and can be amended."
"It is not cast in stone and we want to be the trail-blazers in the continent."
All 40 legislators who are supporting this bid hope that the withdrawal will cause the cases against the two Kenyan leaders to go away.
ICC spokesman, Fadi El Abdallah, however told Kenyan media that all three cases, including one against Journalist Joshua Arap Sang, would continue even if the country withdrew from the Rome Statute which established the ICC.
If the bid to terminate ICC membership succeeds, Kenya will become the first country in history to do so. The international court was established in 2012 to persecute perpetrators of genocide, crimes against humanity, war crimes and the crime of aggression.
A total of 121 countries, 34 of which are in Africa, have since ratified the ICC.