Kenya: Seven Arrested for Manufacturing Illegal Drugs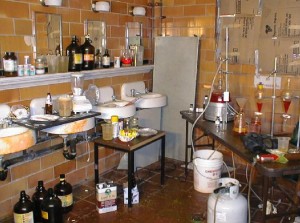 Seven people have been arrested in Nairobi, Kenya for allegedly manufacturing psychotropic drugs for export to South Africa.
The seven individuals – three Kenyans, two Tanzanians and two Indians – were found in possession of 50 kilograms of Methamphetamine estimated to be worth about $1.2 Million. They were also in possession of ephedrine a substance used in the manufacture of cocaine. The arrests were made during a weekend operation which was conducted by officers from the Anti-Narcotics Unit and Special Crimes Prevention Unit.
The Tanzanians Mamkuu Shoo, 27, and January Gabriel Liundi, 30, were arrested while transporting drug production equipment and raw materials for the drug while the Indians, Zkir Hussein and Antony Paul, were found at a premises in Cape Business Park which they had turned into a manufacturing laboratory.
The head of the head of Special Crimes Prevention Unit, Noah Katumo, said methamphetamine has been placed under the United Nations Convention on Psychotropic Substances Treaty. The drug has a high potential for drug abuse and addiction, he added.
The suspects are expected to appear in court on Monday on charges of possession and drug trafficking.