Wild Polio Virus from West Africa Spreads to Ethiopia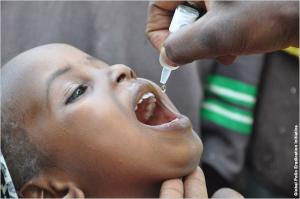 A recent polio outbreak which has affected several Horn of Africa countries has officially spread to Ethiopia. On August 14, the country discovered its first wild case of polio virus since 2008. The victim was an 18-month-old child from Warder District just across the border from Somalia.
Statistics from the Global Polio Eradication Initiative (GPEI) reveal that 11 more cases of polio were discovered in Ethiopia last week. Somalia has reported 108 cases since the beginning of the outbreak while Kenya has reported 12.
Ethiopia is conducting an immunization campaign in the area where the first case was discovered. The campaign is part of a larger supplementary immunization program which is expected to reach approximately 950,000 children aged five years and below. Supplementary immunization will continue in September through to November.
Rotary International's polio eradication program head, Carol Pandak, said "It's not surprising that the virus is spreading. This area has been considered high risk because of its proximity to Somalia."
The polio outbreak was first discovered in May in Banadir region of Somalia. However Pandak says the strain originated from West Africa. This underscores the need to "deal with the remaining endemic countries because that's where the virus originates. And so, you have to deal with both at the same time," she added.
Other countries in the region continue to be under threat of infection.