Ethiopia Commemorates the Late Prime Minister Meles Zenawi, One Year Later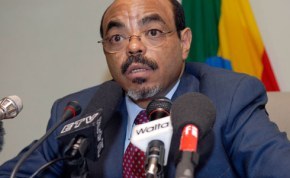 Residents of Ethiopia's capital of Addis Ababa, were awoken by a 21 gun salute on Tuesday morning to commemorate the first year anniversary after the passing of the Ethiopian leader.
Dozens of parks were launched and several candlelit vigils held throughout the country in memory of the late Prime Minister.
The presidents of Sudan, Djibouti and Somalia, vice president of Uganda and other senior leaders from the region attended the memorial ceremony held in Guele at the Meles Zenawi Library and Park. The regional leaders praised Meles terming him "Africa's voice."
Ethiopia's current Prime Minister, Prime Minister Hailemariam Desalegn termed him a "champion of the poor" and applauded his contribution towards good governance and economic growth.
"Meles did a remarkable endeavor in the green economic development. He also led a successful party and government to establish a widely defined democratic system that has recognized and observed rights of individuals and groups at the same time," said PM Hailemariam Desalegn.
The PM told those present at the celebration that the passing of Meles was a great loss to the country and his family as he was a great leader who brought an optimistic future for the country. He however acknowledged that "the institutions and party he (Meles) helped built proved themselves resilient to go through under any difficulties while they keep meeting the national causes they up to succeed."
Azebe Mesfin, wife of the late Meles Zenawi termed the memorial as "simply an event that renews our (Ethiopia's) commitment to development and democracy."
A corner stone for the Meles Zenawi Memorial Museum was laid during the ceremony and a photo exhibition held at the Meles Zenawi Public Park and Library. Meles' portrait continues to appear in every public office in honour of his contribution to the country.