ICC Directs Kenya's Deputy President to Attend All Sessions of His Trial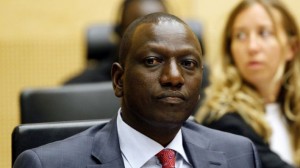 The International Criminal Court (ICC) has said that Kenya's Deputy President, William Ruto, is required to attend all sessions of his trial.
This decision comes after the chief prosecutor, Fatou Bensouda, appealed a decision by the Trial Chamber on June 18 allowing the deputy president to skip some sittings so as to attend to his duties as deputy president. The led the court to suspend the decision and require that Ruto be present during all parts of his trial until the Appeals Chamber makes a full ruling on the matter.
The prosecutor had called for the suspension of the decision by the trial chamber to avoid having to start the trial all over again in the event that the appeals chamber overturned the previous decision and Ruto had already missed some sessions.
A statement from the ICC Public Affairs Unit on Tuesday read "Mr Ruto is now requested to be present during all trial hearings pending the final determination on the prosecutor's appeal. The trial is scheduled to open on 10 September 2013. Today's decision on the suspensive effect will have no bearing on the Appeals Chamber's final decision, which will be made in due course."
In the appeal, Bensouda had accused the trial chamber of selective application of the Rome Statute saying that allowing Mr. Ruto to skip some sessions contravened Article 63(1) which requires the presence of the accused during trial.
She said the decision accorded Mr. Ruto special treatment which was not the case for other accused persons.
The deputy president will be tried alongside Joshua Arap Sang but President Kenyatta will stand trial alone in a later case.
The ICC had previously rejected a request to transfer Ruto's and Sang's case to Tanzania or Kenya.
Ruto is accused of crimes against humanity for his alleged role in the deadly ethnic killings and reprisal attacks that erupted in Kenya after the 2007 elections. An estimated1100 people were killed in the violence and another 600,000 displaced.