Kenya: Suspected Al-Shabab Militia Raid Police Post Killing Four Officers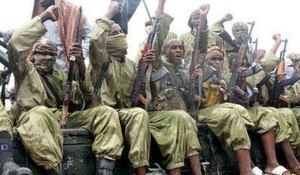 A group of suspected Somali militants attacked a police post in Garissa County of Kenya on Friday killing four police officers.
Reports also indicate that three other people, including a local chief and a school teacher, were also injured in the raid and hundreds others took refuge in the bush for fear of another attack. The raid occurred in Galmagalla village which has poor communications infrastructure.
Confirming the raid, County Commissioner Garrisa Rashid Khattor said "Four administration police officers were killed during the attack and we are now preparing to transport their bodies from the scene…Our initial assessment points to the attackers being al-Shabab militants who crossed over the border and carried out the hit-and-run attack," he added.
He also confirmed that all units of Kenya's security personnel including the military had been alerted so they could immediately respond to the attack.
The Al-Shabab Islamist militant group later claimed responsibility for the attack on its Twitter account saying that its fighters had killed five people, captured weapons and other equipment and burnt down the police post before retreating back to Somalia.
Kenya has experienced a series of similar attacks since October 2011 when the country sent its troops to Somalia to fight the Al-Shabab. African Union troops (AMISOM) have since managed to push the Al-Shabab out of Somalia's capital of Mogadishu.
Another police post in Mandera was raided in May leaving one police officer dead and several other people injured.