Ethiopian Police Discover and Disarm Explosives at Addis Ababa Airport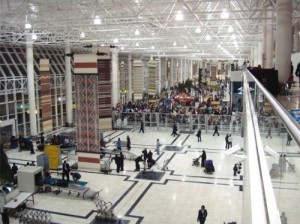 Ethiopian federal police averted a potential explosion at the Addis Ababa Bole International Airport on Friday after discovering two explosive devices at the departure terminal.
It is suspected that the explosives were targeted at hundreds of passengers who were waiting to depart at the country's largest airport.
On discovery of the explosives, the police temporarily cleared the area of passengers and disarmed the seemingly improvised explosive. Flights were delayed but none of the passengers came to harm.
"It is safe now and no more threats. There is nothing to worry" an anonymous source told the Sudan Tribune.
There was no immediate indication as to whether the perpetrators of the incident could be terrorists. However, the Ethiopian government has been involved in combating radical groups in the Somali conflict and in Addis as well and these groups are expected to be the focus of the investigation.
It is also not clear how the explosives made it into the airport despite the tight security at the Addis terminal. The investigation is expected to find out all the loop holes in the airport's security. The incident has also placed security personnel at the airport on high alert.