Kenya Airports Authority Managing Director Replaced After Airport Fire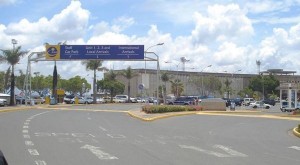 The Kenya airports Authority (KAA) board of directors on Thursday announced the replacement of the authority's managing director following a massive fire at East Africa's main airport last week.
Officials have indicated that the fire started small and was put out but it reignited soon after turning into a massive blaze. A government source who is privy to the details of the ongoing investigation has revealed that the fire could have been caused by an electrical malfunction. The source, who declined to be named saying he is not authorised to speak to the press regarding the investigation, said that although the exact origin of the fire isn't known, investigators have narrowed it down to four rooms in the international arrivals section.
KAA outgoing managing director, Eng Stephen Gichuki, will proceed on his terminal leave after a long, tumultuous tenure at the authority.
Meanwhile, Ms Lucy Mbugua, who previously was the General Manager for Marketing and Business Development, has been appointed the Acting Managing Director. The authority's board will soon call for applications for the position of Managing Director in the country's local media.
Nduva Muli, a member of the KAA board and Principal Secretary at the Ministry of Transport and Infrastructure, however said that Eng Gichuki's contract was set to end in October and therefore he was not being fired.
Acknowledging the importance of Jomo Kenyatta International Airport (JKIA) to the Government of Kenya and the Ministry of Transport, KAA promised to work towards ensuring that passenger comfort is restored in the shortest time possible.
In this regard, the authority plans to set up a temporary terminal within the next eight weeks. Until then, the airport's parking garage will be used as a passenger arrival hall. The temporary terminal will have a capacity of about 6,850 passengers per day which is still a far cry from the previous capacity of 16,000 passengers a day.
KAA also intends to expedite the completion of the new terminal. The authority's chairman Mutuma Mugambi, told reporters that "the completion of Terminal 4 is being expedited to bring it into partial operation by the end of this year."
The terminal is being constructed by Two Chinese-owned construction firms.