African Trade Ministers and U.S. Government Officials in Ethiopia to Review AGOA Deal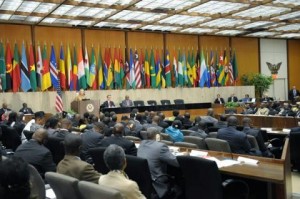 Ethiopia is currently hosting 39 Trade Ministers from African countries and several U.S. government officials who are attending the 12th annual African Growth and Opportunity Act (AGOA) Forum in Addis Ababa.
The meeting began last week on Friday, August 9, 2013 under the theme "Sustainable Transformation through Trade and Technology." and ends today August 13, 2013. This forum is held every other year, either in Washington DC or in a selected African country, to review the African Growth and Opportunity Act (AGOA) deal.
Signed in 2000, the deal seeks to increase business relations between the U.S. and Africa by allowing African countries, with whom there is no existing Free Trade Agreement, duty free access to U.S. markets. It also provides improved access to US credit and technical expertise.
In 2012, the 39 AGOA-eligible countries from Sub-Saharan Africa exported nearly $35 billion in products to the United States," says a Spokesman for the United States. "AGOA provides incentives for African countries to improve their investment climates, reduce corruption, respect human and labor rights and the rule of law, improve infrastructure and harmonize trade standards to help them become more competitive in the global marketplace," he added.
US Trade Representative, Michael Froman, also said "we are of the view that Africa must engage in regional markets so that they can gain economies of scale and become more competitive on the global stage. The review we are doing now will determine how to modify the agreement going forward. We will do a report to US congress which is to carry the process further," he added.
One of the key issues discussed at the Addis Ababa meeting is the extension of AGOA beyond 2014. Other issues included what products should benefit from duty-free access to US markets as well as the scope and coverage of the deal. Froman said, "there will be significant skepticism if we are to allow only one-way access to the USA market. We are looking at this aspect in the review."
It is still unclear whether the US will alter the AGOA deal to make it more like the Economic Partnership Agreements (EPAs) which allow free entry of African goods in Europe and vice versa.