Ethiopian Muslims Protest Government Interference in Islamic Affairs During Eid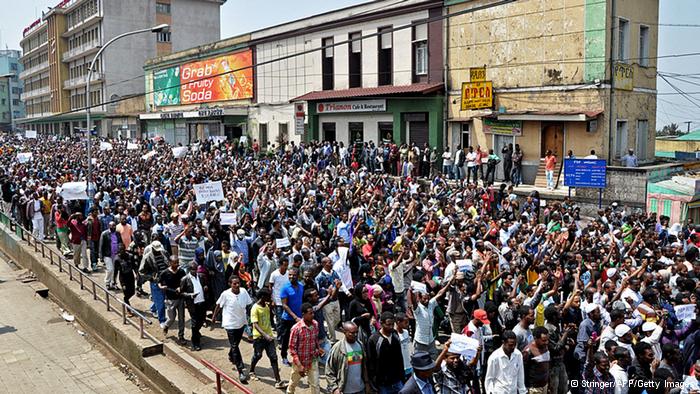 Ethiopian Muslims staged protests in the streets of, the county's capital, Addis Ababa, during the Muslim holiday of Eid al-Fitr on Thursday.
The protests are part of a campaign by Muslims in Ethiopia that calls on the government to stop interfering in the group's religious affairs. Activists and members of the opposition have accused the government of attempting to rig the elections of the Ethiopia Islamic Affairs Supreme Council and several other affairs of the Muslim body. Protestors believe that the military was responsible for the killing of 14 people last week during clashes between the police and Muslim protestors in Kofele, in Ethiopia's Oromiya region.
The government has denied these allegations and in turn accused the protestors of attempting to introduce Islamic militancy the country. Government spokesman, Shimeles Kemal, said the protesters were attempting to set up an Islamic state in the country with financial support and guidance from "extremists" overseas.
These were Salafist elements who tried to create disturbances as the crowd went back to their homes," said Shimeles to Reuters referring to the extra strict brand of Islam followed by al Qaeda. "They have no following among the population but still tried to make it look like a protest. A few have been arrested."
There was tension at the City stadium where morning prayers were held due to a heavy police presence.
Amnesty International released a statement in relation to the protests asking the Ethiopian government to stop using "repressive tactics against demonstrators". Claire Beston, an expert on Ethiopia at Amnesty International told reporters ""we think that these people are persecuted because they got themselves involved in a peaceful protest movement."
"We have seen that the Muslim protest movement which has been active for more than 18 months, continues to be subjected to a massive oppression," Beston added.
Muslims make up about a third of Ethiopia's population of 85 million and most of them follow the moderately conservative, Sufi version of Islam. They claim the government is promoting the Al Ahbash sect; a political and "alien" branch of Islam.