Kenya's Main Airport Resumes Some Operations After Fire Incident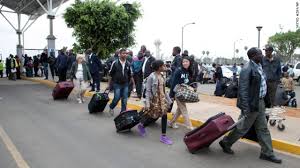 Kenya's main airport resumed some operations on Thursday amid passenger complaints after it was forced to shut down for a whole day following an early morning fire on Wednesday.
The first international flight since the incident landed from Bangkok early on Thursday.
The international arrivals section of the Jomo Kenyatta International Airport was engulfed in an inferno on Wednesday morning. The blackened building continued burn slightly on Thursday as white smoke drifted into the air.
Investigators have ruled out terrorism as a possible cause for the fire but they have yet to ascertain the cause of the fire. Officials have indicated that a makeshift international arrivals terminal will be constructed for the time being.
"What is key is the speed at which this is normalized. If they can pull a rabbit out of the hat and get international flights moving they may bail themselves out," said Aly Khan Satchu, a Nairobi-based analyst.
"If this drags on it's going to damage Nairobi's regional hub status."
The fire, which occurred at the beginning of Kenya's peak tourism season, has dealt a major blow to the tourism industry. At the time of the incident, the airport was operating at twice its 2.5 million passenger capacity.
Stakeholders in Kenya's horticulture industry are anticipating possible losses after cargo planes were grounded. The industry is a major foreign exchange earner for the largest economy in East Africa.
The chief executive officer of exporters association Kenya Flower Council, Jane Ngige, told Reuters "We still haven't flown any produce out. We are waiting to see what rolls out today. In the meantime, (we are trying) not to bring any more produce out until we see what happens."
Since a large part of the international departures section was destroyed in fire, white tents were erected outside the domestic flights terminal to serve international travelers.
Construction workers continued to work on a new terminal at the airport, which is expected to remain under construction for months.
Scores of angry passengers at the airport expressed their dissatisfaction over the lack of information from the concerned authorities.
"There is no info," said Jonathan Cross, a British tourist flying with Ethiopian Airlines. "I was expecting there would still be delays but I was expecting at least someone to be here to give us information."