Massive Morning Fire Disrupts Operations at Kenya's Main Airport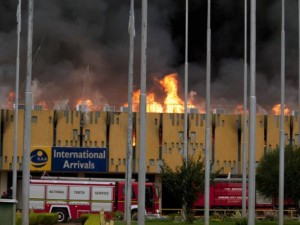 Kenya's main airport was engulfed by a huge fire on Wednesday morning leaving hundreds of passengers stranded at this important travel and trade gateway to east Africa.
The intense heat from the fire drove back the firefighters while the flames lit up the early morning sky. A huge cloud of smoke was seen coming from the airport buildings but no casualties or injuries were reported.Officials said the fire began in the arrivals and immigration sections in the morning causing the whole Jomo Kenyatta International Airport (JKIA) to be cordoned off to keep the public out.
The cause of the worst fire at east Africa's busiest airport is yet to be established.
"We are still fighting to contain the fire. Investigations will start immediately after," Michael Kamau, cabinet secretary for transport, told reporters at the airport.
"The fire started at a very central part of the airport and this made access difficult. But we have closed the airport indefinitely as we try to contain the fire."
One passenger reported hearing two small explosions from the international arrivals section followed by sirens.
"I was waiting for my flight around 5 a.m. (0200 GMT / 10:00 p.m. Tuesday EDT) when I heard two explosions, as if from gas cylinder or electricity fault," said the passenger, a Kenyan who spoke on condition of anonymity."Within minutes, the entire airport was secured by police and Kenya airport authority personnel, who ordered everybody out of the airport," he said.
The fire ravaged the airport buildings reducing desks inside the burned out terminal to charcoal and causing the roof to partly cave in. Television pictures also showed the floor flooded with water from fire fighters.
According to transport secretary Kamau, no plane had landed or departed since the fire started. He was unable to give an indication of when the airport would reopen but said some aircrafts had taken off without passengers.
Passengers Stranded, Exporters Worried
Stranded passengers sat a short distance away from the airport watching as grey smoke billowed from the burning building and awaiting information.
One of the Passengers, Svein Huseby, 38, an engineer from Norway who was on his way home after visiting his Kenyan girlfriend said "It's been chaotic … No one knows if they will be going home in two hours, two days or two months. People are going crazy.Some official information would have been nice."
Exporters of perishable produce, mainly flowers, said they were worried about the impact that the fire would have on their business. "This is disastrous," Jane Ngige, chief executive officer of exporters association Kenya Flower Council, told Reuters.
Incoming flights are expected to be diverted to other airports in Kenya including Mombasa, Eldoret and Kisumu and neighboring countries including Uganda, Tanzania and Rwanda.
Cabinet Secretary for the Interior and Coordination of National Government, Joseph ole Lenku, said security at the airport had been beefed up since the fire started.
"People should not come to the airport while this work is ongoing. No casualties have been reported and the fire fighters are doing a good job. Safety is paramount," he said.
Kenya Airways, one of Africa's leading airlines, which uses JKIA airport as its main hub, has announced that it will be diverting flights to Mombasa and that passengers on transit would be taken to hotels. Other flights have been cancelled.The airline's shares fell by 2 percent.
A spokesman for RwandAir, Robert Nsinga, said the airline had cancelled flights to Nairobi and was offering passengers the option of flying to Mombasa instead.
One Air Uganda flight had failed to land at JKIA due to the fire but no international flights have been diverted to Uganda yet said Wenceslaus Rama Makuza, the chief executive officer of Uganda's Civil Aviation Authority.
This incident comes in the wake of another where two days ago, a fuel pump failure caused huge delays at the Nairobi airport.Also last week on Thursday , the Kenya Airports Authority (KAA) re-possessed several duty free shops claiming that their lease agreement had expired.