Ethiopia Develops Strategy on the United States-Africa Growth Opportunity Act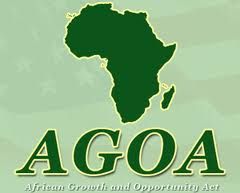 Ethiopia is the first pilot country to develop a strategy that will allow it to benefit from the United States-Africa Growth Opportunity Act (AGOA).According to State Minister for Trade Yacob Yala said that the strategy will form an integral part of the country's growth and transformation plan.
Speaking at a consultative strategy meeting, the minister said, "the underlying objective of our growth and transformation plan (GTP) strategy is to increase the share and the benefits gained from the global economic integration with an ultimate goal of becoming a middle-income country by 2025."
The Economic Commission for Africa (EAC) in collaboration with the Ministry for Trade organized a consultative meeting on the national AGOA response strategy at the UN conference centre.In attendance were about 200 relevant stakeholders from the public and private sectors and the donor community including leading exporters, heads of spectral associations, heads of chambers of commerce, senior government officials from various ministries, commercial diplomats, members of civil society and donors.
Speaking on behalf of the Ethiopian government, the minister thanked the ECA's Africa Trade Policy Centre for its support in the preparations for the National Strategy and AGOA Forum that will be held in Ethiopian in August 2013.
Since Ethiopia is the first pilot country, to develop an AGOA Response Strategy, the Trade Ministry and the African Trade Policy Center of the ECA, have identified key supply side constraints that affect the performance of the export sector and suggested possible solutions.Sector specific constraints in selected priority were identified during the meeting and suggestions of possible support programs and policy interventions to tackle the constraints made.
Besides contributing to the National Strategy which is set to be completed in a few months, participants made a decision to set up a National Institutional Structure to oversee the development and implantation of the Strategy. A High Level National Steering Committee, area specific Technical Groups and a complete AGOA center were some if the structures agreed to at the meeting.
The African Growth and Opportunity Act (AGOA) is a one-of-a-kind trade initiative which allows Sub Saharan African Countries, liberal access to the U.S. market. Great progress has been made under the Act in the last thirteen years with exports under AGOA increasing by more than 500 percent to $53.8 billion in 2011 from $8.15 billion in 2001.