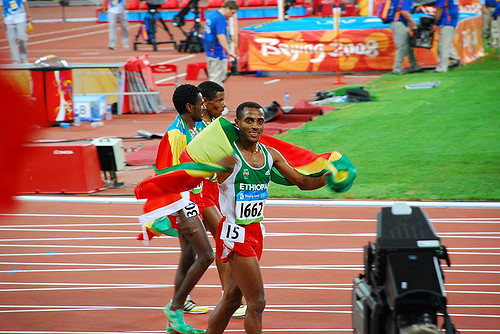 Ethiopia's Kenenisa Bekele Wins 2016 Berlin Marathon After Rio Olympic Snub
Ethiopia's 5,000m and 10,000m world record holder Kenenisa Bekele, who was left out of the country's Rio Olympic athletic team, has won the 2016 Berlin Marathon.
On Sunday, Bekele won the marathon with a time of two hours, three minutes and three seconds. The 34-year-old's finishing time was just seven seconds behind a world record set by Kenya's Dennis Kimetto, AP reported.
Kimetto became the first man to break the 2:03 barrier after winning the 2014 Berlin Marathon with time two hours, two minutes and 57 seconds, Running Competitor reported.
Kenya's Wilson Kipsang, who also missed the just-ended Rio Olympics Games, came second at the 2016 Berlin Marathon after finishing ten seconds behind Bekele. The former world record holder finished with a time of two hours, three seconds, and 13 minutes.
Although Kipsang's time earned him the second position, it was faster than the 2:03:23 world record time that he set to win the 2013 Berlin Marathon.
Kenya's Evans Chebet finished third with a time 2:05:31.
The East African trident dominated the 43rd edition of the Berlin Marathon which recorded 41,283 international participating athletes.
Bekele, a decorated triple Olympic winner, was not included in his Ethiopia's both 10,00m and marathon team because he did not pass the selection criteria.
Bekele, who expressed his disappointment at the news of his omission in July, said members of Ethiopia's Athletics Federation (EAF) have very little knowledge of athletics.
Feyisa Lilesa, now famous for his finishing line Oromo protest gesture in Rio, claimed the silver medal for Ethiopia at the Olympics.
Lilesa, who used the international games to protest against the Ethiopian government's alleged crackdown on Oromo protesters, was one of the four athletes in Ethiopia's marathon team.
The leaders of the Ethiopia Athletics Federation (EAF) have been blamed for the country's mediocre performance at the Olympics.
In August, the Ethiopian Athletes Interim Committee, which is comprised of coaches, elite, and veteran athletes, blamed the heads of the EAF for the fact that Ethiopia ranked 44th place on the Rio medal table.
Ethiopia, an East African athletic powerhouse, won just one gold, two silver, and five bronze medals. Ethiopia's overall performance in Rio was better than several African countries who did not win any medals. However, by Ethiopia's high Olympic standards, the results were disappointing. Ethiopia's neighbors and endurance running rivals, Kenya, won six gold medals in four marathon competitions.
Ethiopia's legendary athlete, Haile Gebrselassie, has called for the resignation of high-ranking members of the EAF, Fana Broadcasting reported.
Photo by Lim CK/CC BY-NC-ND 2.0]