Haile Gebrselassie and Kenenisa Bekele Lead More Than 100 Athletes in Protest Against Ethiopian Athletics Federation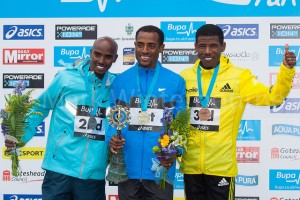 A group of Ethiopian runners are protesting against the country's athletics federation. The athletes are unhappy about the federation's process of selecting a team for the 2016 Olympics in Rio de Janeiro, Brazil.
The athletes, who were reportedly over a 100, gathered outside the National Stadium in Addis Ababa on Tuesday.
Long-distance legend Haile Gebrselassie was among the runners protesting against the Ethiopian Athletics Federation (EAF).
According to AP, Gebrselassie said the federation is "marred with incompetency."
The 43-year-old retired athlete said he participated in the protest because of the federation's decision to exclude distance runner Kenenisa Bekele from the Olympic team.
Beleke, a three-time Olympic gold medalist and World Record holder, who has already expressed his disappointment at the federation's decision, was also present in the protest.
Bekele and Gebrselassie reportedly addressed the athletes who gathered to protest against the federation.
The Ethiopian Athletics Federation claims that the country's 2016 Olympics athletics team was selected based on certain requirements. According to the federation, Bekele failed to meet the requirements hence his exclusion from the Olympic team.
The requirements allegedly include participating in the world championships. Bekele claims he had little time to prepare for the competition because of the timing of the federation's announcement.
Bekele, who has won over 20 medals for his country, is not the only high-profile athlete to have been excluded from the Olympic team.
Two-time Boston Marathon champion Lelisa Desisa did not also make the team. Desisa, Bekele, and three-time Olympic gold medalist Adhance Tsegay have instead been listed as alternates.
Ethiopia's Athletics Federation announced its Rio Olympics team made up of three men and three women last month.
Tesfaye Abera, the 2016 Dubai Marathon winner; Lemi Berhanu, Boston Marathon winner; and Feyisa Lelisa, will represent Ethiopia in the male division.
None of the three male runners in Ethiopia's team participated in the 2012 Olympics.
Meanwhile, Mare Dibaba, Aberu Kebede, and Aselefech Mergia have been selected to represent Ethiopia in the women's marathon.
Tirfi Tsegaye and Tigist Tufa have been selected as alternates.
Photo: Mo Farah, Kenensisa Bekele and Haile Gebrselassie. (Flickr/ Mark Winterbourne)