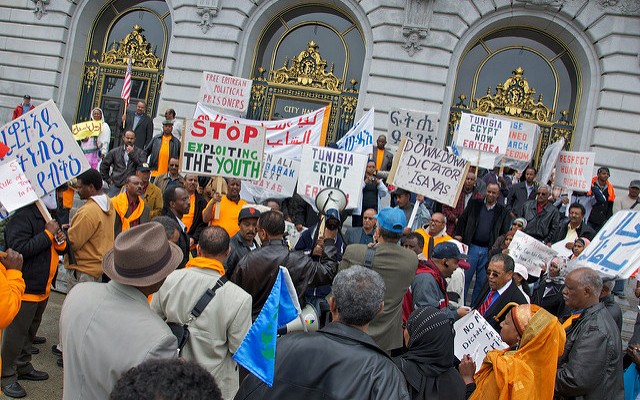 Eritreans in Europe Protest in Support of UN Report Accusing Eritrean Leaders of Committing Crimes Against Humanity
Eritreans in Europe have gathered in Switzerland to protest in support a new United Nations Commission of Inquiry (COI) report that accuses Asmara of committing crimes against humanity.
The protesters, who came from all over Europe, demonstrated in front of the United Nations (UN) human rights office in Geneva on Thursday.
"It is so important that we are here to show support to the Commission of Inquiry's report when so much energy has been spent by the Eritrean regime and their supporters to discredit the findings of the report," Vanessa Berhe, a protester, told Al Jazeera.
The COI report, which was released earlier this month, accuses the Eritrean government of committing crimes against humanity since the East African country became independent in 1991.
The UN inquiry accused Asmara of enslaving about 400,000 people. The findings also include claims of extra-judicial killings, imprisonment, murder, and rape in Eritrea.
On Wednesday, hundreds of Eritrean dissidents and refugees in Ethiopia also staged a demonstration in support of the COI report.
The protesters reportedly gathered in front of the African Union office in Ethiopia's capital, Addis Ababa. Protests were also held in refugee camps in Ethiopia.
During the demonstration, protesters called for the indictment of Eritrea's President Isaias Afwerki, AP reported. The protesters staged an execution and a casket covered in Eritrea's flag was carried around.
"Everyone in Eritrea is very desperate at the moment due to the dire conditions at home," Bashir Isaac Abdulla, an organizer of the rally, said. "Many of them want to escape from the country by any means, and that is why we are witnessing a massive migration of the youth."
Despite the demonstrations supporting the UN inquiry, some Eritreans have expressed dissatisfaction about the report which calls for members of the Eritrean government to be prosecuted in the Hague-based International Criminal Court.
On Tuesday, thousands of pro-Eritrean government supporters gathered in front of the UN Human Rights office in Geneva to protest against the COI report. According to the protesters, the report is "biased and full of lies."
The protestors reportedly submitted petitions with over 200,000 signatories from 81 countries to the UN High Commissioner for Human Rights. The petitions denounced the COI report as a "total fabrication."
Eritrea's Foreign Minister Osman Saleh has accused Ethiopia of masterminding the evidence used in the COI report. Saleh told the UN Human Rights Council that the information used in the report was acquired from "witnesses organized by Ethiopia."
Ethiopia has denied the claims as "baseless."
[Photo by Steve Rhodes/Flickr]