9-Year-Old Girl Sues Britain Over Father's Arrest and Imprisonment in Ethiopia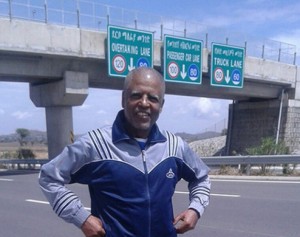 The 9-year-old daughter of a British man, who was arrested in Yemen and transported to Ethiopia, where he has been imprisoned for 22 months, is suing the British government for not demanding for her father's release.
Menabe Andargachew is the daughter of Andargachew Tsege, a British and American citizen of Ethiopian decent. In June 2014, he was arrested during an airport stop in Yemen by local intelligence officials.
Tsege was reportedly on his way to Eritrea when he was detained at the Sanaa Airport in the United Arab Emirates.
Addis Ababa has accused Tsege of being a member of a terrorist organization seeking to destabilize Ethiopia by overthrowing the legitimate government.
Tsege, who is the secretary-general the outlawed Ethiopia opposition group Ginbot 7, has since been sentenced to death.
He has been sentenced to life in prison and death at three trials in absentia – in 2005, 2009 and 2012.
According to NBC, this week marks the 700th day that Tsege has spent in detention – without access to legal assistance and frequent consular services. He has also not been able to communicate with his family since his incarceration.
Menabe's suit against Britain alleges that London's approach to securing her father's release is "unlawful."
The British Foreign and Commonwealth Office (FCO) has described Tsege's detainment as "unacceptable." However, British authorities have reportedly not demanded his release – and would wait for "due process."
British officials reportedly have requested assurances from Ethiopia that the death penalty would not be carried out in Tsege's case.
International Human rights organization, Reprieve, and Tsege's family, who have been lobbying for his release, have questioned Britain's approach.
"The suggestion that he can go through a court process in Ethiopia to somehow assert his rights is absolutely farcical," attorney Rosa Curling told NBC.
Menabe's suit is a new legal approach that Tsege's family is employing to secure his release. His three children and their mother Yemi Hailemariam have written to the Queen, the British Prime Minister as well as American and British officials to help secure his release.
"Are we saying that a nation can just grab a third nation's citizen from any airport, from anywhere at will?" Yemi asked. "The U.K.'s actions – they're saying its OK.".
According to Ethiopia's Prime Minister Hailemariam Desalegn, Tsege was plotting a coup with the Eritrean government.
"Andargachew Tsege is a Trojan horse for the Eritrean government to destabilize this country," Desalegn said.
The prime minister added that foreign governments can express concern about Tsege's imprisonment. However, he said that Tsege would be treated according to Ethiopia's law.