Human Rights Group Chides UK for Failing to Press Ethiopia to Release Andy Tsege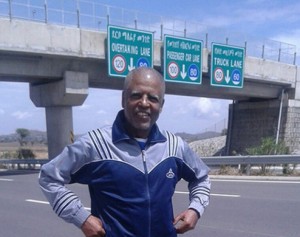 International human rights organization Reprieve is advocating for the release of a British man, who was arrested in Yemen and transported to Ethiopia, where he has been imprisoned for 15 months.
Reprieve chided the UK government for not using a high-level trade event with Ethiopia to demand the release of Andargachew "Andy" Tsege from prison.
The group criticized British officials for failing to harness the opportunity presented by the UK-Ethiopia Trade Investment Forum, which was staged in London on Wednesday, to request for Andy's release.
Andy, a father of three, is of Ethiopian decent. In 2014, he was arrested during an airport stop in Yemen by local intelligence officials and then transported to Ethiopia.
Addis Ababa has accused Andy of being part of a terrorist organization seeking to destabilize Ethiopia by overthrowing the legitimate government.
Andy, who is the secretary-general of an Ethiopian opposition group based in the diaspora, has been sentenced to death. Like other outspoken critics of the Ethiopian government living in exile, Andy was tried in absentia.
Since his arrest, Andy has been held in a prison in Ethiopia, where he has reportedly been denied legal assistance and frequent consular services. He has also been unable to communicate with his family since his kidnap and detention.
The UN Human Rights Commissions (UNHRC), which has urged the Ethiopian government to release Andy, said this summer it feared that the Brit was being tortured.
According to reports, Andy, who was placed in solitary confinement, has recently been transferred to a new prison described as "Ethiopia's gulag."
"The UK government should be outraged by this behavior and should be responding in the strongest possible terms," said Kevin Laue of Redress, a human rights organization.
The UK has come under serious criticism by rights groups who say officials have been slow in pursuing Andy's immediate release. The Foreign Office has also been criticized for pressing Ethiopia for more consular access rather than his immediate release.
Andy's wife and mother of his three children Yemi Hailemariam wrote an article to the Independent on Monday calling for his release. She pleaded with the Foreign Office and African Minster Grant Shapps MP to use the bilateral trading opportunity to press Ethiopia for Andy's release.
"Philip Hammond's Foreign Office has yet to as Ethiopia for his release. They still have not given me a reason why – but now I feel the question I have been asking for the past 15 months has been answered. Sir Simon McDonald, the top civil servant in the Foreign Office, recently admitted that human rights are no longer a 'top priority' as the government pursues a 'prosperity agenda' that puts trade interests above humanitarian principles," Yemi wrote.
She added that the "Foreign Office has repeatedly told me that Andy's case is a 'priority' – but in the meantime, it is clearly business as usual."
Maya Foa, the head of Reprieve's death penalty team, dismissed British officials for missing the trade meeting to press Ethiopia for Andy's release.
"Grant Shapps' promise to stand 'shoulder to shoulder' with Ethiopia will be cold comfort to Andy Tsege's desperate family in London. Even the UK's limited requests for proper consular access have been flatly ignored by our allies in Ethiopia. Andy is a British father who is the victim of a series of terrible abuses by the Ethiopia government," she said.