New York Road Runners to Honor 3 East African Marathon Legends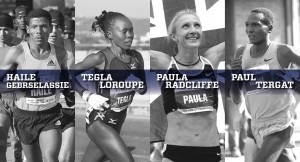 Three East African long distance runners are set to be inducted into the New York Road Runners (NYRR) Hall of Fame, Class of 2015 later this month.
Ethiopia's Haile Gebrselassie as well as Kenya's Tegla Loroupe and Paul Tergat are listed among other marathon greats to be honored for their trailblazing careers and contribution to society.
According to a NYRR press release published on Wednesday, Paula Radcliffe of Great Britain and U.S. award winning running journalist Marc Bloom are also among the other award winners.
"New York Road Runners and those involved in the sport of distance running are incredibly fortunate to have witnessed the stellar performances and contributions of Paula, Tegla, Paul and Haile throughout their careers," said Peter Ciaccia, NYRR president of events.
"Their record-setting and medal-winning runs raised the sport to new heights, and they have selflessly used their leadership in the sport as a positive platform for change and inspiring people of all ages and abilities to improve their loves through running."
All five winners are scheduled to receive their awards on Oct. 29th at the TCS New York City Marathon Pavilion in Central Park.
Besides being inducted into the NYRR Hall of Fame, Gebrselassie would also be awarded with the 2015 Abebe Bikila Award for his exemplary exploits on and off the race course.
The 42-year-old four-time world champion and two-time Olympic gold medalist in the 10,000 meters division has been praised for his philanthropic efforts in Ethiopia.
"We are very pleased to present Haile with this year's Abebe Bikila Award acknowledge a career of superb athletic and humanitarian achievements," said Michael Capiraso, NYRR CEO and president.
"Haile mirrors the athletic talent and integrity of Abebe Bikila, attaining the highest accolades in distance running and giving back to the sport and his home country equally as much."
Gebrselassie, who is arguably the best marathon runner in history, is also being recognized for "providing hundreds of people in Ethiopia with jobs through his personal business ventures."
Kenya's Loroupe, the former holder of the world marathon record, was the first African woman to win the New York City Marathon in 1994. She went on to win the prize twice and holds world records for 20, 25 and 30 kilometer marathons.
Now 42, Loroupe is well known for being a global spokeswoman for peace and for women's and children's rights. From a large family of 25 siblings, Loroupe started running ten kilometers to and from schools every day at the age of six.
She has steadily used her sporting success to advocate for peace, education and women's rights. To assist orphan children, Loroupe created the Tegla Loroupe Peace Academy. The organization provides education for children displaced or orphaned by HIV/AIDS and conflicts.
46-year-old Tergat won the New York City Marathon by one second in 2005. This is the smallest victory margin in the history of the race. Tergat, who launched the 12th Kenyan annual Sports Personality of the Year Awards (SOYA) on Wednesday, has amassed several awards during his career.
This week, Tergat, who works with the United Nations as a World Food Programme Ambassador Against Hunger, cautioned young athletes to stay away from drugs and other performance enhancing lures.
East Africans have dominated international distance running competitions, and the New York City Marathon is no different. Kenyan athletes are currently dominating in both male and female events. Over the past few years, Kenyans have repeatedly won in the male and female groups.
Photo: New York Road Runners (NYRR)