Ethiopia: 14 Dead, UN and Humanitarian Aid Organization Attacked in Bloody Ethnic Clash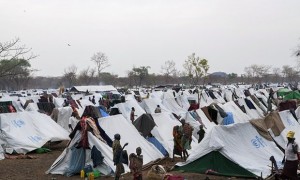 Ethnic violence has claimed 14 lives in Gambella, western Ethiopia this weekend after the car of a non-governmental organization (NGO) struck and killed two Nuer children.
According to AP, the death of the children, who are from a South Sudanese refugee camp, triggered the violence. The driver of the NGO vehicle was reportedly an Ethiopian citizen.
In a reprisal attack, ten Ethiopian citizens living around the camp were killed by a mob of angry refugees.
After the deadly incident, several Ethiopians from the Anuak group reportedly led an attack to Gambella. About four members of the Nuer community, traditional rivals of the Anuak, were killed in the attacks.
The angry refugees reportedly also attacked facilities belonging to the United Nations (UN) and Doctors Without Borders (MSF). The angry group claims that the UN supports the Nuer ethnic group, hence the vandalization.
"Protesters broke open the entry gate to one of our residences and destroyed a vehicle," said Stephanie Savariaud, a UN official in Ethiopia.
MSF staffs were reportedly forced to relocate to a hotel after protesters attacked their offices. Several vehicles belonging to the aid organization were destroyed in the incident.
Ethiopia's border city of Gambella is home about 300,000 people. About 270,000 South Sudanese refugees – mainly from the Nuer ethnic group – fled their country in 2013 following the outbreak of civil war.
According to reports, violence between the different ethnic groups living in the region is common.
Last week, armed groups belonging to the Murle ethnic group of South Sudan attacked and killed over 100 Ethiopian members of the Nuer group. The deadly attack happened in Jakawa, Gambella.
The deadly attack spanned about ten Gaajaak-Nuer villages. The attackers reportedly kidnapped about 100 Ethiopian children following the attack.
Ethiopian forces have reportedly pursued and located the assailants in a mission to rescue the abducted children.
Photo: Zacharias Abubeker/AFP/Getty Images