South Sudanese Armed Groups Kill Over 100 Ethiopian Civilians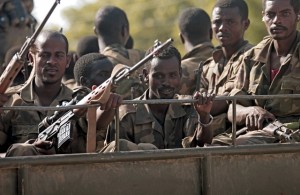 Armed groups from South Sudan have attacked and killed over 100 Ethiopian members of the Nuer ethnic group.
The deadly attack reportedly happened on Friday morning in Jakawa, located in Ethiopia's border region of Gambella.
About ten villages reportedly inhabited by members of the Gaajaak-Nuer community were attacked by the armed groups.
The death toll, which includes women and children, stands at over 100. Many other people sustained injuries from the attack while some children are reported to have been abducted.
Reports indicate that most of the attackers wore South Sudanese military uniforms. The attackers are believed to be from South Sudan's Murle ethnic group.
"The Ethiopian defense force is currently chasing after the perpetrators," Ethiopia's communications minister Getachew Reda said.
Reda, who debunked any links between the attackers and South Sudan's military, said Ethiopian forces have killed about 60 of the assailants.
Ethiopian forces are currently pursuing the attackers and are reportedly likely to chase them into South Sudanese territory.
Ethiopia has been hosting thousands of South Sudanese refugees who fled their country in 2013 following the outbreak of a civil war. This is not the first time an attack of this nature has occurred. Armed Murle men have reportedly carried out smaller attacks around Ethiopia's border region in the past.
Photo: Raxanreeb