Norway Offers Asylum Seekers Over $3,000 to Leave Voluntarily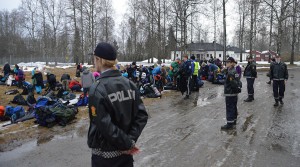 Norway has offered to pay asylum seekers about $3680.61 to voluntarily leave and return to their home countries.
The offer which begins this Monday was announced by the Norwegian Directorate of Immigration's (Utlendingsdirektoratet- UDI).
The payment program has been increased by about $1,200. The initial offer was around $2,400.
According to reports, the new offer is scheduled to run for six weeks and only to the first 500 asylum seekers who register for the program will receive payment.
The program applies to asylum seekers who arrived in Norway before April 1st. The offer also applies to migrants who have no protection claim in Norway.
The initiative comes as Europe struggles to cope with the influx of asylum seekers from the Middle East and Africa. The situation is the biggest refugee crisis Europe has faced since WWII. More than one million migrants reportedly entered Europe in 2015.
About 35,358 migrants seeking asylum entered Norway in 2015 – a sharp rise from about 11,480 in 2014. Reports indicate that Somali, Eritrean and Syrian citizens make up the majority of the 25,861 migrants in Norwegian asylum centers.
The Norwegian government's way of cutting down on the refugees on its soil has drawn criticism from some Scandinavian human rights organizations. The groups argue that the Norwegian government's offer is a disregard for human life. Norway has also been criticized for delaying its waiting period.
Over 7,000 asylum seekers have waited for more than a year for a response from the UDI regarding their status.
Despite the criticisms, Norwegian authorities point to the rising cost of running asylum centers.
"We need to entice more to voluntarily travel back by giving them a bit more money on their way out. This will save us a lot of money because it is expensive to have people in the asylum centers," said Integration Minister Sylvi Listhaug. "There are also many who are not entitled to protection and by all means, are going to be rejected. its better for us to stimulate their travel back."
Photo: Refugee Norway