Kenya Denies Withdrawing Troops from Somalia, Reaffirms Commitment to Defeat al-Shabab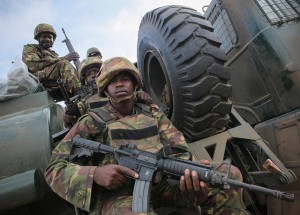 Kenya has reiterated its support for the African Union peacekeeping mission in Somalia (AMISOM) amid reports that Kenyan troops are withdrawing from some towns in the war-thorn country.
Colonel David Obonyo, Kenyan military spokesman, confirmed the movement of troops. However, he said rather than a plan of systematic withdrawal, the move is part of the army's protocol.
Reports of a withdrawal began circulating after Kenyan soldiers moved out of two strategic bases in Somalia. One of the abandoned bases is located in southern Somalia where Kenyan forces were recently fatally attacked by al-Shabab.
On Jan. 15, Somalia-based Islamist militant group al-Shabab attacked Kenya's military base in el-Ade. Shabab, which has links to al-Qaeda, claims to have killed about 100 Kenyan soldiers in the brazen attack.
Kenya is still yet to release an official death toll from the attack. The numbers of injured or missing soldiers have not been also disclosed.
According to the BBC, Kenya's military is still in the process of identifying the bodies of soldiers killed during the attack.
Families of soldiers who have not been accounted for have been asked to provide DNA samples to help identify their relatives. Many of the soldiers are reported to have been mutilated beyond recognition.
An investigation has since been launched into the attack, which could be the deadliest Kenya has suffered since 2011 when it deployed troops to Somalia.
A search, rescue and recovery operation is still ongoing in Somalia. Kenya has responded to the attack with a renewed determination to defeat Shabab. More Kenyan soldiers have since been deployed to several towns in the country.
"The latest group troops from the infantry units, whose sole purpose is to fight and win land battles, are on their way to El Adde to reinforce several other soldiers currently engaging the militants in their hideouts near Gedo towns," Chief of Defense Forces General Samson Mwathethe said.
He added that fighter jets and attack helicopters have continued to bombard Shabab's stronghold in Gedo and Baay regions.
Last week, during a memorial service for the fallen troops, Kenya's President Uhuru Kenyatta condemned the El Adde attack. He reiterated Kenya's commitment to defeating Shabab and ensuring Somalia returns to peace.
Kenyan has contributed over 4,000 troops to the African Union peacekeeping mission in Somalia.
Photo: AU-UN IST/Stuart Price