Al-Shabab Claims to Have Killed 63 Kenyan Peacekeepers During Attack on AU Base in Somalia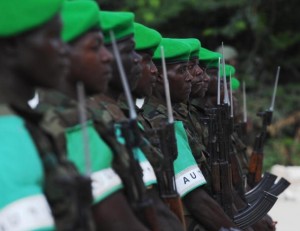 Somalia-based Islamist militant group al-Shabab claims to have killed over 60 Kenyan soldiers during a brazen attack on an African Union (AU) peacekeeping base in the war-torn country on Friday.
The group with ties to al-Qaeda reportedly attacked the AU base in el-Ade, southwestern Somalia after morning prayers.
According to the BBC, the attack on the base, which is run by Kenyan troops, began with a suicide car bomb. The explosion was followed by heavy gunfire exchanges as Shabab fighters trooped into the base.
Although reports indicate that Shabab had taken over the base and mounted its flag in the premises, Kenyan military officials said the fight for the facility was still on-going at the time.
Col David Obonyo, Kenyan military spokesman, debunked shabab reports that the AU base had been attacked. He said militants attacked a nearby Somali base and Kenyan troops were helping stage a counter-attack.
While Obonyo stressed that the number of casualties on both sides is yet to be verified, al Shabab claims to have killed 63 Kenyan soldiers inside the base. The bodies of the deceased soldiers were reportedly being displayed and burned in the town.
"The mujahedeen fighters carried out a successful operation this morning on a military base at El-Adde, and they have killed many Christian soldiers from Kenya," Shabab spokesman Abdiaziz Abu Musab said in a statement.
Shabab also claims to have seized over 25 military vehicles and all arms and ammunitions found in the base.
Since 2011, when Kenya invaded war-thorn Somalia to fight Shabab, Nairobi has reportedly contributed over 4,000 troops to the AU peacekeeping mission.
Although Shabab has suffered considerable defeats at the hands of the 22,000-strong AU peacekeeping force in Somalia , the Islamist group continues to launch deadly attacks across Somalia and in other neighboring countries.
Al-Shabab has carried out several terrorists attacks in Kenya. The group claims the deadly attacks were in retaliation for the presence of Kenya troops in Somalia.
AU troops are fighting to protect Somalia's internationally-backed government. Several African governments have also contributed troops to the mission, which is aimed at ensuring peace and stability in the country afflicted by war for decades.
Al Shabab is fighting to overthrow the government and turn Somalia into a fundamentally Islamic state.
Photo: Getty Images