U.S. Closes Ethiopian Drone Base Amid Rising Terror Threats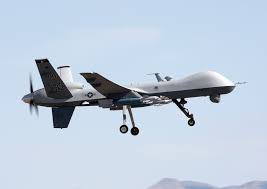 The United States has shut down its drone base in southern Ethiopia as demand for the technology soars in other regions of the continent seething with the rise of extremists.
The air base located in Arba Minch, about 250 miles south of the capital, Addis Ababa, has been operational since 2011. The base served a strategic hub for U.S. troops to launch missions targeting al-Shabaab, the Somali base Islamist militant with ties to al-Qaeda.
U.S. officials have been hush about the move to end the drone base. The Washington Post reports that U.S. personnel already dismantled their operations and Reaper drones from the base since September. However, U.S. diplomats only confirmed the reports this week.
"U.S. military personnel are no longer in Arba Minch," embassy spokesman David Kennedy said on Monday. "In our ongoing bilateral discussions on defense cooperation, we reached a mutual decision that our presence in Arba Minch is not required at this time."
Officials did not specify the exact reasons behind the decision to close the base. However, reports indicate that move was triggered by the rise of terror groups in Chad, Cameroun, Mali, Nigeria and Libya.
The success of the international military campaign against al-Shabaab has also been cited as a reason for the move. The Pentagon's Africa Command can afford to redistribute its resources as a result of Shabaab's relatively weakened state.
"Shabab remains virulent, but as a significant terrorist threat with high profile leaders in range for drone attacks, much less so," said Peter Pham, director of the Atlantic Council's Africa Center.
The U.S. has targeted Shabaab's leadership with drone strikes in the past. The killing of its leader Ahmed Abdi Godane in September 2014 is an example.
Katherine Diop, U.S. embassy spokeswoman in Addis Ababa, said "It is important to know that our presence in Arba Minch was never meant to be permanent."
However, the closure of the base is unexpected; it comes months after the U.S. Air Force signed a $6.7 million contract with an Ethiopian company. The contract with the Ethiopian tourist lodge entails the provision of housing and offices for about 130 officials in charge of the drone operations
Officials have not revealed where exactly the drones have been deployed to.