al-Shabaab Features Donald Trump in Terror Recruitment Video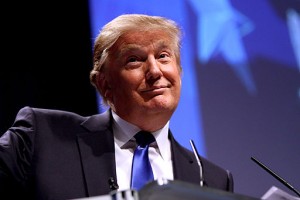 Somali Islamist militant group al-Shabaab has released a 51-minute recruitment video featuring controversial statements by US Republican presidential candidate Donald Trump.
The video, which was reportedly released online on Saturday, targets Muslims and African-American youths. The recruitment documentary focuses on racial injustice and is fraught with images of the civil rights era. It also features a clip of Trump's controversial call for a "total and complete shutdown of Muslims entering the United States."
Trump's controversial statement, which he made after the deadly terrorist attack in San Bernardino, California, last month, has been heavily criticized. Governments and international groups across the world have condemned his anti-Muslim rhetoric as divisive.
Shabaab's video, edited with clips of its leader Anwar al-Awlaki, who was killed in a drone strike in Yemen in 2011, describes Minnesota as an integral part of its propaganda agenda. The video highlights its martyred members, who have joined its cause from Minnesota.
The recruitment video surfaced two weeks after Democratic presidential candidate Hilary Clinton said the Islamic State (ISIS) was using Trump's statements about Muslims to recruit members.
However, the real-estate mogul has defended his statements. Trump said on Sunday that he would not tone down his fiery rhetoric because Islamic extremists would use it as a recruitment tool.
"We're not supposed to speak about the enemy because if we do we're going to be in propaganda," Trump asked on 'Fox & Friends.'
"The world is talking about what I've said," Trump said on CBS' Face the Nation. "And now, big parts of the world are saying, Trump is really right, at least identifying what's going on. And we have to solve it. But you're not going to solve the problem unless you identify it."
Shabaab, who have ties with al-Qaeda and most recently ISIS, have been fighting to overthrow the internationally-backed Somali government for over a decade. The group has claimed responsibility for several deadly attacks on Somalia, Kenya and other African nations contributing troops to the African Union peacekeeping mission in the war-torn country.