Burundi: United Nation and African Union Condemn Escalating Violence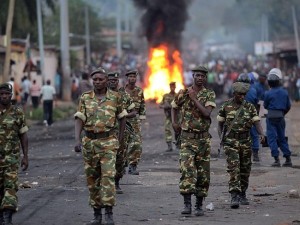 The African Union (AU) has expressed concerns over the rising levels of violence and human rights abuses in Burundi after reports of widespread arbitrary arrests, torture, killings and assassinations.
The African Commission on Human and Peoples' Rights released a reports this week after conducting investigation in Burundi from December 7th to 13th.
"The situation of violence is of great concern, we received reports of ongoing human rights violations and other abuse including arbitrary killings and targeted assassinations, arbitrary arrests and detentions, torture, arbitrary suspension and closure of some civil society organizations and the media," the Commission's report revealed.
According to the report, social services such as schools and hospitals have been seriously affected by the state of unrest and violence. The situation has also increased the numbers of Burundian refugees; more people are being forced away from their homes in search of safety. About 200,000 people have reportedly left to neighboring countries since April.
The AU investigators were in Burundi last Friday when a series of attacks on three military facilities left over 80 dead.
Burundian officials say 79 "enemies" and eight soldiers lost their lives during the attacks on the military facilities. However, there are reports that civilians were among the dead and hundreds have since been arrested.
Last week's incident is the worst violence the central African country has experienced since tensions erupted in July after President Pierre Nkurunziza's disputed third term election victory.
Officials have expressed fears that the escalation of violence could degenerate into civil war. Burundi has once been embroiled in a civil war that lasted between 1993 and 2006.
The country is still recovering from the war – about 300,000 people were reportedly killed in the conflict, which ended with a treaty that the opposition say Nkurunziza's third term bid violates.
Both the United Nations (UN) and the AU have condemned the attacks and warned that the current situation could further destabilize the country.
Last month, the United States and Belgium, who colonized Burundi, asked their citizens to leave the Central African country.
The AU has called for clam and dialogue between the government and the members of opposition.
Uganda's President Yoweri Museveni has been assigned by the East African Community to mediate between Burundi's government and the opposition.
According to Uganda's minister of regional cooperation, Philemon Mateke, Museveni is organizing a meeting between the Burundian parties. The meeting will reportedly be held in a neutral country. However, the parties have not yet decided on a venue for the talks.
Photo: AFP Photo/Simon Maina