Several Injured After Grenade Explodes in Addis Ababa's Biggest Mosque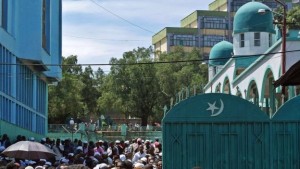 Over a dozen people sustained injuries on Friday after a grenade was thrown into the biggest mosque in Ethiopia's capital Addis Ababa.
The hand grenade exploded in the Grand Anwar Mosque just after evening prayers. About five people reportedly sustained serious injuries in the attack.
No fatalities have been recorded in the explosion which occurred around Mercato's market, a predominately Muslim district.
No group has claimed responsibility for the attack yet. Ethiopia's Information Minister Getachew Reda said an investigation to ascertain the culprits is already underway.
Terror attacks are rare in Ethiopia compared to other neighboring countries such as Somalia, Kenya, and Uganda. The last explosion linked to terror activities occurred in 2013 in central Addis Ababa.
Authorities believe that the culprits were planning to attack a packed stadium on the same day the bomb detonated.
There are reportedly several rebel groups engaged in low-level battle against Ethiopia. However, the main threat of terror attacks come from Somali-based al-Shabab.
Shabab has carried out deadly attacks against Kenya, Uganda and Djibouti in retaliation for contributing troops to a joint African Union Force in Somalia.
Ethiopia has also deployed troops to assist in the joint mission to restore peace to Somalia. However, unlike its neighbors, Ethiopia has been able to successfully thwart terror attacks within its borders until now.
In August, 18 Muslims suspected of terrorism and conspiracy to create a branch of the Islamic State in the country were jailed. An Ethiopian court sentenced the suspects, who included clerics and journalists, to 22 years in prison.
Photo: Getty Images