Kenyan Military Denies Financing al-Shabab through Sugar and Charcoal Smuggling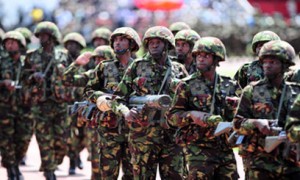 The Kenyan military has allegedly been smuggling sugar and charcoal from Somalia since 2011 when it invaded the war-thorn country to fight militant Islamist group, al-Shabab. The racketeering ring, which involves high-ranking members of the army, is said to be an important source of funding for al-Shabab.
Journalists for Justice, a non-partisan watchdog, published a report accusing the Kenyan Defense Forces (KDF) of corrupt practices on Wednesday.
"This is not a question of a few corrupt border guards and junior policemen," the report said. "This a racket involving large sums of money that stretches to the highest levels within Kenya."
The report alleges that high-ranking members of Kenya's Ministry of Defense and Immigration are involved in the ring. Senior members of Kenya's Executive and the National Assembly were also implicated.
Reports indicate that the proceeds of the illicit trade – estimated to be over $300 million – is shared in three ways. The KDF, Somalia's regional government (the Interim Jubaland Administration) and al-Shabab reportedly partake in the proceeds of the illegal smuggling ring through taxes.
All three groups tax the trade of sugar and charcoal at different points. The report estimates that the KDF earns up to $50 million from taxes yearly. About 230 trucks of sugar are said to be smuggled through the port of Kismayo weekly.
"The illicit conflict economy is benefitting both Al-Shabab and those ostensibly opposing them," the report added.
Journalists for Justice compiled the reports after months of research and studies conducted in both Kenya and Somalia. The group interviewed Kenyan and United Nations officials, western intelligence sources, sugar traders and drivers involved in the trade.
The report also accused the KDF of human rights abuses – including widespread abduction, rape and torture in Somalia. Kenyan air strikes allegedly targeted crowds of people, water points and livestock rather than al-Shaba's strong holds.
Although the Kenyan army has been accused of profiteering in Somalia since 2011 when it invaded the country to combat Shabab, the KDF has consistently denied these accusations as well as alleged tourist kidnappings and other atrocities it supposedly blamed Shabab for.
Colonel David Obonyo, KDF spokesman, said Kenyan troops are giving their best along with 22,000 African Union Mission in Somalia (AMISOM) soldiers fighting Shabab. He stressed that the KDF is not involved in financing the very terrorist group it seeks to defeat.
"We are not involved in sugar or charcoal business," Obonyo said. "How can you sit down with Shabab one minute, and the next you are killing each other?"
However, David Shinn, former U.S. ambassador to Burkina Faso and Ethiopia, says the report "tracks with what the U.N. Monitoring Group has been saying for years now."
"They have come up with some very sharp criticisms of Kenyan authorities, particularly in the military in Kismayo, for being in the charcoal trade in a way that benefits al-Shabab," he explained.