Russian Whistleblower Calls for Doping Probe on Ethiopian and Kenyan Athletes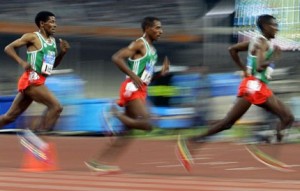 A whistleblower, whose reports triggered a global inquiry into corruption in the International Association of Athletics Federations (IAAF) and Russia's athletic body, has said Ethiopia and Kenya should also be probed for doping.
"There should be a similar investigation into countries like Kenya and Ethiopia too. Their top athletes are earning far more than the Russians. Yet their levels of testing are very limited," Andrey Baranov said on Wednesday.
In 2014, Baranov, a Russian sports agent, signed a deposition to the IAAF. It exposed bribery, extortion and other corrupt practices among high-ranking sports officials.
This Monday, details of Baranov's report detailing state-supported doping among Russian athletes led to a call for Russia's ban. The call by an independent World Anti-doping Agency (WADA) commission for Russia to be suspended from athletics competitions has been questioned.
Baranov says although he agrees with WADA that things have to change in Russia, he stressed that rather than a ban the country needs time to change. Baranov also stressed that officials should extend their investigations on doping to East Africa.
East African athletes dominate the athletics world. Kenyan athletes have earned a bad reputation for being fond of doping. In three-years over 30 Kenyan athletes have been suspended for using performance enhancing drugs.
Former WADA president, Dick Pound said Kenya "has a real problem and has been very slow to acknowledge it".
Meanwhile, Ethiopian Athletics Federation (EAF) is confident that its athletes don't take drugs to enhance their performance.
"There are athletes who take doping to enhance their performance. In our case we had little problem in this regard," said Dube Jilo, an official with Ethiopia's athletics governing body.
He added that for Ethiopian athletes, hard work on the hills and the high altitude is the secret. While he hopes it will continue that way, Dube warned athletes to abstain from doping.
He said a National Anti-Doping Agency has been established in Ethiopia to monitor athletic activities. So far, just a few Ethiopia athletes have been found guilty of doping.
Photo: FunPicWeb