Sudanese woman appeals against death sentence for apostasy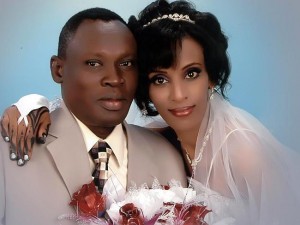 The hearing of the case of a Sudanese woman charged with adultery and renouncing Islam commenced this week in an Appeals Court in Khartoum.
Meriam Ibrahim Yahya, 27, who has been in custody since the beginning of the year, was given an ultimatum to revert to Islam or receive 100 lashes and a death sentence last month.
However, the mother of two, who recently delivered her second child while in custody, has remained defiant that she was never a Muslim.
According to Amnesty International, Meriam was raised by her mother, who was an Orthodox Christian. Her father, a Muslim, reportedly abandoned the family while she was young.
But this has not prevented the authorities from upholding her sentence.
On Tuesday, a three-Judge bench presided over the first session of her much publicized appeal trial.
Reports indicate that Meriam has been subjected to ill treatment, denied medical care and illegally barred from accessing her legal team at the Omdurman Women's Prison, where she is being held.
Pundits say her case has unearthed Sudan's deep religious division and ostracism.
Critics have accused the government of being 'theological' and attempting to impose its strict version of Islam (Sharia) on the religiously diverse population.
Several nations, top officials and human rights advocacy groups across the world have categorically censured these actions and directed the government to institute reforms to guarantee the freedom of religious association; according to the United Nations Charter. They have also directed the government to free Meriam immediately.
While officials have generally remained silent about this case, reports indicate that this week an insider from the Foreign Ministry told the press that the Appeal Court would have the final say on the issue.
Last week, Meriam's husband, Daniel Wani, who recently returned from the United States, told the press that he has slim hopes of the court ruling in her favour. Mr. Wani has reportedly applied for asylum for his wife with U.S. authorities; noting that her safety would be at risk even if she is released.
If her sentence is upheld by the court, local sources say it will be put-off for two years, in accordance with the country's laws, to allow her breastfeed and care for her new-born child.
Photo/Gabriel Wani/Facebook