Uganda: Oil companies submit proposals to build refinery at Lake Albert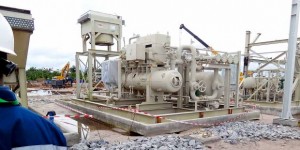 Four international petroleum companies have presented proposals to the Ugandan government for the development of the country's first oil refinery in Buseruka Sub-county, Hoima district, western Uganda.
The Ugandan government officially opened the bidding process in March this year, after an investors' conference in Kampala.
Local sources quote Fred Kabagambe-Kaliisa, permanent secretary to the Ministry of Energy and Mineral Development, explaining that the response rate demonstrates the competitiveness of the project and the attractiveness of east Africa as an investment destination.
Ugandan authorities shortlisted six firms in December last year to bid for the project. China Petroleum Pipeline Bureau, Japan's Marubeni Corporation, Russia's Global Resources and South Korea's SK Group are the four companies that have submitted their proposals. Meanwhile, PETROFAC from the United Arab Emirates and VITOL SA from Switzerland both failed to put in any bids.
The $2.5 billion crude oil refinery, which will cover about 29 square kilometers, is expected to be completed in 2019 and will be built in three phases. Officials, however, say oil production is expected to commence by 2018.
The refinery will be jointly owned by the government and the winning bidder; in a ratio of 40% to 60%.
Mr. Kabagambe-Kaliisa said the proposals will be evaluated by government officials and experts from the United States-based financial specialist for the project, Taylor De-Jongh.
He further noted that the winning bidder will be announced by June. The negotiations are expected to be finalized by the fourth quarter, to give way for construction to begin by the end of the year.
Robert Kasande, one of the project managers, has revealed that "The evaluation criteria will include the overall technical experience, financial capacity, the development, financial and commercial plans submitted by the bidders."
He also noted that the authorities are particularly keen to select a company that can build a plant which will refine the country's petroleum products to meet international standards.
African leaders have advocated for the construction of refineries in the continent to offset the cost of petroleum products; which are crucial for development.
This refinery will the first to be built in Uganda. Experts say the country has about 3.5 billion barrels of crude oil in its reserves – making her the fourth nation with the largest reserves in Sub-saharan Africa.
The refinery will have a capacity to refine 60,000 BDP and is expected to employ about 6,000 people.
Photo/Africa Oil & Gas Report