Sudan and South Sudan leaders meet in Khartoum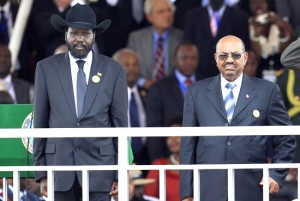 Sudanese President Omar al-Bashir hosted his counterpart, President Salva Kiir of South Sudan, in Khartoum recently amid ongoing efforts to strengthen bilateral relations in the wake of the prolonged civil war in the south.
A spokesman for Sudan's Foreign Ministry has revealed that the discussions centered on security issues including the present Abyei tension, as well as trade and oil.
According to sources, this was the fourth meeting between the two leaders.
The last meeting occurred in January when President Omar visited Juba following the eruption of violence in the southern region, reports reveal.
The two states have had strained relations since the southern region broke away in 2011, resulting in sporadic violence and instability, observers say.
During the latest meeting, the two leaders announced that they have agreed to initiate mutual mechanisms to reactivate the execution of the cooperation pacts signed between the two states in 2012, officials say.
Following the visit, President Omar expressed his hope that the relations between the two would return to normalcy, adding that borders between the two nations would soon be reopened.
President Kiir, who expressed his gratitude to Khartoum for hosting refugees fleeing the violence in the south, further indicated that he would soon return to Khartoum for additional meetings with other officials.
Observers say the visit and its outcomes are a clear demonstration that the Sudanese people in both countries are very eager to maintain their historic kinship and face their present challenges as allies.
In the past, the two states have traded allegations over insecurity in Abyei, an area whose status remained unresolved when the southern region split from the north, reports indicate. Last March, the UN Security Council appealed to the two nations to extract their forces from the region.
According to Africa Review, the two states signed a pact last March to re-activate the security accord that involves halting joint rebel support. Analysts say Abyei remains one of the most complex pending issues between Juba and Khartoum besides border demarcation and citizen status in the two countries.
An official source revealed to the media that Kiir requested Khartoum's support in reinforcing control along the borders, adding that the leaders also discussed methods of defending oilfields from attacks from South Sudan insurgents.
The source also revealed that Juba requested Khartoum to support its position in IGAD against the involvement of the apprehended SPLM leaders in the negotiations between the insurgents and the government.
Meanwhile, analysts say that a new petroleum pact is imperative with both economies facing a crisis due to oil revenue loss. They add that a new agreement would offer a tangible, financial incentive for stability, peace, and help facilitate future economic and political cooperation.
Photo/Gurtong: President Salva Kiir of South Sudan and President Omar al Bashir of Sudan.