Blast in Nairobi suburb leaves 6 dead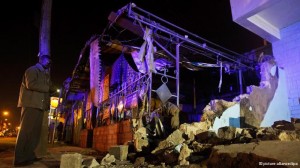 An explosion in the predominantly Somali-populated Eastleigh suburb of Nairobi has killed at least 6 people and injured more than 15 others, according to local reports.
Nairobi News has disclosed that the blast occurred between a cafe and a restaurant on 11th street, California area, at about 7:30pm.
Nairobi Police boss, Benson Kibue, told the press that the nature of the explosive(s) used in the attack is still unknown. However, speculations are rife among commentators that they were grenades or an improvised explosive device.
The owner of the Sheraton Cafe – one of the two buildings affected by the blast – has revealed that people in his shop were prevented from escaping immediately after the blast rang as they discovered they had been locked in.
Meanwhile, Standard Digital has reported that some of the casualties were recovered from the opposite restaurant.
Reports indicate that several people standing between the two outlets were also among the injured.
Kenya's Red Cross has revealed that about 15 people are receiving treatment for injuries as a result of the explosion. However, reports indicate that up to 25 injured people were shuttled from the scene to nearby hospitals.
The chief executive of Kenyatta National Hospital, Lily Koros, has implored Kenyans to donate blood to assist victims of the explosion.
It is currently unclear who was responsible for the blast. However, several commentators have connected it with the recent spate of terrorist attacks in Mombasa.
On Sunday, March 30th, a man was killed near the Al Bushraa Islamic Centre in Eastleigh after an explosive device he was assembling detonated prematurely, according to reports.
Local sources claim 3 unidentified men bolted from the scene immediately after the blast.
Eastleigh, or 'little Mogadishu' as it is also known, has been increasingly linked with terrorism in Kenya. Kenyan authorities have expressed concerns that Islamic militants from Somali can easily filter into and recruit people from the area.
Kamukunji MP, Yusuf Hassan, has indicated that Eastleigh residents and national security agencies have agreed to collaborate to clear the area of terrorist elements, according to Nairobi News.
Last Friday, President Uhuru Kenyatta signed a pact with the Kenyan-Somali community to collaborate in the fight against terrorism, according to a report by Midnimo.
The chairman of the Eastleigh Business Community, Hassan Guleid, at the meeting with President Kenyatta noted that the Kenyan-Somali community will support the country's security agencies in the campaign against the disturbing rise in terrorism.
In December last year, an unidentified terrorist threw a grenade into a minibus as it drove through Eastleigh. The resulting explosion led to the deaths of up to 4 people, while 36 others sustained injuries.
Photo by VOA/Alliance/DPA: The scene of the explosion.