IAAF World-Half Marathon Championships Round-up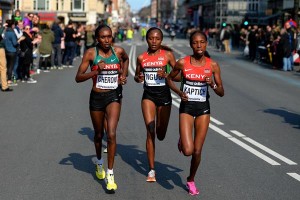 Kenyan athletes produced a dominant display at the 22nd edition of the IAAF World-Half Marathon Championships  in Denmark.
The event saw the Kenyan team grapple with their Ethiopian and Eritrean rivals for team and individual honours.
In the end, it was an exciting day for the Kenyan women's team, who captured the top five spots, led by Gladys Cherono.
The event saw the Kenyan team take individual gold for both women and men races.
While the Kenyan women won the team title with a great margin, the men's team settled for silver in their competition – ending a six-victory winning streak.
Eritrean athletes surpassed their Kenyan counterparts to win the team title, leaving the Ethiopian team to settle for Bronze. Commentators have noted that this performance is a great improvement from the Eritrean team's silver win in 2012.
Zersenay Tadese, a dominant force in the men's event, lost the chance to claim his sixth consecutive victory as Kenya's Geoffrey Kipsang finished the race ahead of him – Kipsang (59:08), Tadese (59:38).
The last time Tadese missed the top three spot was in 2002 when he lost to a fellow Eritrean in Brussels, according to IAAF.
In the women's race, 30-year old Cherono claimed gold in a time of 67:28, recording her season's best ahead of silver medalist Mary Wacera, who clocked a personal best of 67:44. While bronze winner, Sally Kaptich, also posted a personal best in a time of 67:52.
Lucy Kabuu, the event favorite, clocked a time of 68:37, and missed an individual medal ahead of Jerotich Kibarus, results indicate.  The historic feat by the Kenyan women's team, which secured every team member in the top five, was reportedly the first at this event.
According to online sources, this event recorded the first mass-participation since 1992.
Photo by Getty Images/IAAF: Kenyan females athletes during the competition.