Death Toll from Lake Albert Boat Accident climbs to 251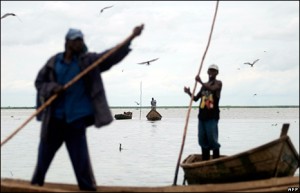 A spokesman for the government of the Democratic Republic of Congo has disclosed that 251 bodies have been recovered from Lake Albert after a boat capsized on Saturday, March 22nd.
According to Lambert Mende Omalonga, only about 50 survivors have been registered from the estimated 300 passengers who boarded the boat at a port in Uganda's Hoima district. The survivors have reportedly been transferred back to Ugandan soil for medical and psychological attention.
Reports indicate a search for more bodies is still ongoing in the lake, which is also hosting petroleum explorers.
Although the exact cause of the fatal accident is still unknown, pundits have speculated that the boat was overloaded. Reports indicate that the official capacity of the boat stands somewhere around 80-100 people, however there were reportedly 300 passengers aboard on the day it capsized.
According to a statement by the United Nations High Commission for Refugees (UNHCR) spokesperson, Fatoumata Lejeune-Kaba, who expressed shock and sadness at the demise of the passengers, "There were apparently too many people on board which is why the boat capsized."
Reports indicate that a majority of the victims (mostly women and children) are refugees from the DRC, who were returning home after they were forced to flee due to attacks last year.
The Government of the Democratic Republic of Congo has officially declared 3 days of mourning for the victims of the accident and has intimated its willingness to support relatives of the victims complete their funerary process.
Lake Albert, named after a German prince by explorers, has reportedly experienced an increase in accidents over the past few years. Many commentators have pinned this deadly development to the increasingly sporadic weather of the lake, as well as poor safety standards.
Governments in the region as well as non-governmental organizations have created campaigns to influence boat owners to respect the passenger limit and insist on the use of life jackets.
Photo by the BBC: Fishermen on Lake Albert.