South Sudan: Peace talk fails to resume in Addis Ababa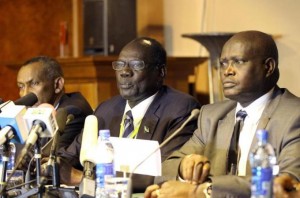 The dialogue between representatives of the warring factions in Addis Ababa failed to be re-initiated this past week as both sides continued armed battle in the war-torn nation.
During the adjournment of the discussions earlier in the month, representatives of the Inter-governmental Authority for Development (IGAD), disclosed to the media that the meeting was set to resume on March 20th.
However, on Thursday, March 20th, reports indicate that only the rebel delegation was present at the negotiation venue, prompting a rebel spokesman, Yohannis Musa, to tell AFP that "The government is not serious about the talks."
South Sudanese officials have disclosed that the government's representatives were not present due to some of the side's unmet preconditions for the talks to proceed.
The government has demanded the exclusion of the eleven politicians accused of complicity in the ongoing insurrection from the talks.
However, reports indicate that IGAD has approved the participation of seven of the politicians (who were released to Kenya in January) in the talks.
Meanwhile, the rebels have called for the release of the other four politicians on trial in South Sudan, and the inclusion of the entire group, part of their preconditions for the talks.
Spokesperson for the South Sudanese president's office, Ateny Wek Ateny, on Thursday told the media that the politicians, whom he described as "suspects", did not have any legitimacy to participate in the talks.
He explained that the reason for his side's absence from the meeting on the 20th is because they are currently awaiting "clarification" from IGAD about the status of their requests.
The South Sudanese government has been under immense pressure to release the detained politicians, stop fighting and resume talks with the rebels. But the government continues to be defiant to continental and international requests.
On Wednesday, reports emerged that South Sudanese forces have reclaimed Malakal – capital of the oil-rich Upper Nile State – from the rebels.
However, the rebels, who claimed to have temporarily withdrawn after coming under air raids from Ugandan forces, say they launched a counter attack on Thursday and have reclaimed the city.
Since violence erupted in South Sudan in December last year, thousands of people are estimated to have been killed and close to a million displaced.
Aid organizations have disclosed that efforts are underway to deliver supplies and medical aid to many of the displaced people scattered across the country.
With no formal date announced for the resumption of the deliberation between representatives of President Salva Kiir and his rival, Riek Machar, there is no immediate solution in sight for the conflict in the world's youngest nation.
Photo by AFP: A section of the representatives of South Sudan's warring factions in Addis Ababa.