Victims of Harar Town Fire accuse Government of Complicity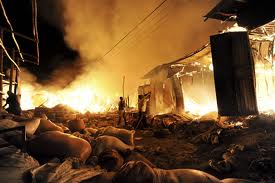 March 9th was a sad and disturbing day for residents of Harar town – a place known for its ancient walls and performers who do amazing stunts alongside hyenas.
A fire at the Mebrat Hail Gebi Market Center on this fateful day led to the destruction of over 400 shops and an unascertained number of other valuable assets.
Reports indicate that residents of the town have taken to the streets to protest against what they have alleged to be arson by agents of the government.
According to Addis Guday, clashes between the protesters and the town's police has resulted in many arrests and injuries.
Residents of Harar told Addis Guday that a similar episode had transpired some three years ago on their original market center – just in front of the recently burnt area.
"The government had forgot its promise and the same thing that happened to us three years ago has happened again," they said.
They further alleged that the recently damaged center was supposed to provide temporary housing to the traders until their permanent market would be ready, as promised by the government.
Reports indicate that the burnt patch has been fenced and nothing has been done there since the fire was put out.
Earlier last week, victims of the fire incident met with the President of The Harari Republic, Ato Murad Abdulahi, who offered the government's support in rebuilding everything that was destroyed.
He reportedly also disclosed that the government will see to it that loans with favorable terms are made available for the traders. However, he noted that the traders must stop protesting as a precondition.
On Monday, March 10th, the communication head of the Harari Republic Administration, W/ro Hasenet Abubaker, told reporters that the protesters were not victims of the fire, but people living on the streets.
It took over two hours and the collaboration of the Dire Dawa's Fire Control Station, Eastern Hararghe Town Police, Civil Aviation, Haromaya University and many other volunteers to put the raging fire under control at the market square last week Sunday.
Photo: The burnt market.