GAVI Alliance supports Cervical Cancer Vaccination program in Africa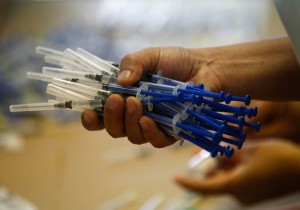 A public-private alliance of several agencies primarily created to support vaccination campaigns in developing countries, GAVI, has announced that it will facilitate immunization drives against cervical cancer in Uganda, Rwanda and Uzbekistan.
The Chief Executive Officer of the alliance, Dr. Seth Berkely, in a recent statement described cervical cancer as a "scourge on women and their families in the world's poorest countries."
Reports indicate that the immunization campaign against human papillomavirus (HPV) has already been launched in Rwanda – making the east African nation the first on the continent to embark on a nationwide vaccination exercise of girls 9 to 13 years-old against this virus.
Officials say the immunization campaigns in Rwanda and Uzbekistan are set to commence in 2015 and will involve the administration of 3 doses over 6 months.
Currently, cervical cancer is reported to be responsible for the deaths of nearly 300,000 people worldwide yearly – and a majority of the fatalities are recorded in middle and low income countries.
Several observers have noted that without immediate intervention, the rate of HPV infections is expected to rise rapidly in the African continent over the next few years.
Many experts have highlighted several factors that have supported the spike in HPV infections. This includes an abhorrence for medical tests among many local communities due to age-old prejudices against western medicine as well as the high cost of screening and treating the virus.
Dr. Berkely notes that "With limited access to screening and treatment, it is all the more important to vaccinate girls against HPV to give them the best protection possible against cervical cancer, which claims more than a quarter of a million women's lives [worldwide] every year."
DAVI is reportedly also supporting trial vaccination campaigns in many other African countries to demonstrate the availability of the required infrastructure and the capacity of local medical workers to conduct the mass program.
Reports indicate that the governments of Kenya and Tanzania have both commissioned vaccination trials this year.
Although the Rwandan government has been operating HPV vaccination campaigns at least since 2011, it was only this year that the country started receiving support from GAVI.
Reports indicate that previously the country had been in collaboration with several humanitarian agencies, including Merck Vaccines.
Rwanda's Minister of Health, Dr. Agnes Binagwaho, has noted that "Rwanda invests its own resources into co-financing vaccines from GAVI and so this transition marks an important step towards sustainability, and to ensure that every girl in Rwanda grows up without fear of this devastating killer."
In Uganda, cervical cancer is reported to be the most frequently diagnosed form of cancer and is estimated to claim the lives of nearly 4,000 females yearly.
Photo by Reuters: A medical officer holds a pack of vaccines.