Ethiopia and Kenya deepen Bilateral Ties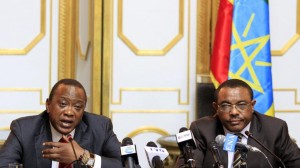 The leaders of Ethiopia and Kenya have called for the enforcement of a Special Status Agreement (SSA) signed between both nations in 2012 to be quickened.
President Uhuru Kenyatta, who is currently on a short trip to Ethiopia, noted that the agreement provides a framework for co-operation between the two nations "in key sectors of the economy – in trade, in investment, in infrastructure and in food security," to improve the living standards of their citizens.
President Kenyatta further directed his Cabinet Secretaries to nominate experts to oversee the implementation of the agreement. He went on to highlight the fact that Kenya's legal structure is conducive to the SSA.
On his part, the Prime Minister of Ethiopia, Hailemariam Desalegn, voiced his government's willingness to enforce the agreement. However, he noted that it is yet to receive parliamentary approval.
Both leaders also expressed optimism that another agreement which is expected to eliminate double taxation on businesses operating in both nations will be signed soon.
Ethiopia and Kenya established bilateral relations in the colonial era and have been one of the strongest allies in a region which has experienced several divisive wars and upheavals.
President Kenyatta noted that the sound state of the co-operative relationship between Ethiopia and Kenya has led to success in the construction of one of the largest projects in the region – the Lamu Port and Southern Sudan-Ethiopia Transport (LAPSSET).
He disclosed that a co-operative framework agreement is currently being drafted, which will lead to the establishment of a joint commission to manage both nation's shared river basins effectively.
The Kenyan leader also lauded the creation of a biennial ministerial commission to improve bilateral co-operation between both nations.
Kenya's Cabinet Secretary for Foreign Affairs and International Trade, Ambassador Amina Mohamed, who is part of the entourage of the president on his trip to Ethiopia, has revealed that "the volume of trade between Kenya and Ethiopia has been registering a steady growth over the years."
Speaking at a forum for business leaders and government officials in Addis Ababa, she however noted that "there remains a huge unexploited potential"
"Kenya and Ethiopia are out to encourage the private sector driven growth, we acknowledge the fact that the private sector thrives on profits and the two governments therefore must facilitate repatriation of profits by businesses operating in either country and put in place mechanisms for avoidance of double taxation of incomes earned in one country by companies belonging to the other country,' she said.
President Kenyatta and PM Desalegn expressed deep concerns for the security situation in Somalia and South Sudan, echoing their resolve to support the efforts of the Inter-governmental Agency for Development (IGAD) to bring peace to these nations.
Both leaders also relayed their willingness to collaborate in tackling many other issues including climate change, terrorism, corruption and cross border crimes.
Photo by Tiksa Negeri/Reuters: President Uhuru Kenyatta of Kenya and Prime Minister Hailemariam Desalegn of Ethiopia at the Ethiopian Presidential Palace on Monday, March 10th, 2014.