Ethiopia and Egypt collaborate to create Hydraulic Research Center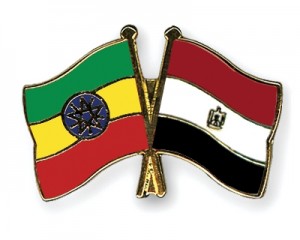 Despite their much publicised row over Ethiopia's construction of a dam on the Blue Nile, the governments of both nations have committed to collaborate towards the establishment of a hydraulic research laboratory in Addis Ababa.
Egypt's Minister for Irrigation and Water Resources, Mohamed Abdul Muttalib, told Youm7 on Wednesday that Egypt's National Research Centre will co-ordinate research with Ethiopian authorities into the development of the center.
Reports indicate that experts from the University of Addis Ababa and other research centers will also be involved in the project.
The Egyptian National Research Center was founded in 1956 and facilitates research and innovation in many disciplines including agriculture, engineering and biology.
Pundits have noted that the proposed center is expected to lead to various developmental projects between these two nations – which are both tributaries of the Nile.
According to the Egyptian Irrigation and Water Resources Minister, a group of Ethiopians are currently undergoing training at the Egyptian National Research Center to foster technical projects between the two countries.
Egyptian authorities have protested against the construction of the Grand Ethiopian Renaissance Dam (GERD) on the Blue Nile, noting that it has the potential to drastically reduce the the arid nation's freshwater supply.
However, some experts say the dam will be beneficial to both nations.
According to them, the reservoir is expected to reduce the impact of the annual flooding of the Nile on downstream countries.
The gigantic dam is also expected to empower Ethiopia to export electrical power to her neighbors.
Egypt's former Irrigation Minister, Mohamed Nasr el-Deen, has revealed that he believes his government is not conducting the campaign against the construction of the dam in an effective way.
According to a report by Ahram Online, he described the Egyptian government's moves as reactive rather than proactive and also questioned if officials have updated information about the dam's progress.
el-Deen also announced the formation of a new non-governmental organization, the Egyptian Council for Water, by the Free Egyptian Party and several professionals.
The organization is expected to oversee the interests of the Egyptian population on all issues related to the Nile.
Photo by crossed-flag-pins.com.