Tanzania and Kenya to Deploy Troops to South Sudan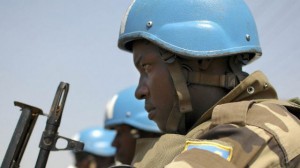 Top ranking government officials from Tanzania and Kenya have confirmed reports that both nations are set to deploy troops to war-torn South Sudan.
Tanzania's Foreign Affairs and International Cooperation Minister, Bernard Membe, told reporters on Thursday that the a single battalion will be deployed to Juba in April.
"Our country is dedicated to bringing peace and harmony in the continent and beyond, so we are gladly sending one battalion to restore peace as per the UN's request," he said.
Meanwhile, reports have emerged that Kenyan authorities are preparing to deploy an additional 300 soldiers to South Sudan. Kenya is already reported to have already deployed about 1,000 soldiers to South Sudan since violence erupted in the country in December 2014.
This revelation comes after Ugandan officials revealed last week that the Uganda People's Democratic Force (UPDF) will be withdrawn from South Sudan in April to make way for an African Union mission.
During a recent meeting with President Salva Kiir of South Sudan, President Uhuru Kenyatta expressed optimism that the negotiations between both sides will be fruitful.
Currently, the talks in Addis Ababa are reportedly being stalled by unmet demands from both sides.
Although a ceasefire has been in place since January 23rd, there have been isolated reports of violent exchanges between forces loyal to both factions. But each side has pinned blame for the wanton violence on the other.
Last week, reports emerged that the rebels attempted to capture Malakal, a city in the oil-rich Upper Nile State, from the control of government forces. However, they reportedly were successfully repelled.
In the wake of the failed campaign, reports indicate Malakal has sustained extensive damage.
According to images released by Satellite Senitel Project, almost half of the homes in the city seem to have been burnt to the ground.
United Nations (UN) officials who visited the city have disclosed that bodies are strewn across the streets and several shops have been looted and torn apart.
Doctors Without Borders have also revealed that hospitals were attacked and looted during the violent battle in the city last week. There are reports that some patients were also shot dead in their beds.
The UN has vowed to prosecute all violations of human rights during this conflict, which has lasted over two months and has led to the death of over 10,000 people and the displacement of an estimated 800,000 others.
Photo by AFP.