Genzebe Dibaba Breaks her 3rd World Record in 15 Days
Sean Ingle
The Observer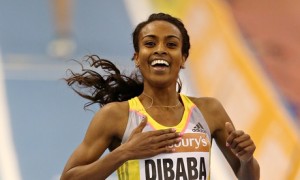 Genzebe Dibaba's astonishing indoor season continued as she smashed her third world record in 15 days at the indoor grand prix here.
A fortnight ago, in Karlsruhe, the 23-year-old Ethiopian snipped three seconds off the 1500m record. Last week in Stockholm she took apart the women's indoor 3,000m by nearly seven seconds. She leaves Birmingham with another record and a $15,000 (£9,000) bonus after obliterating Meseret Defar's two-mile world record by nearly six seconds after winning in 9min 00.48sec. It might have even been a second or two quicker if she had not been forced to veer around athletes she was lapping.
Dibaba admitted that halfway round she felt "a bit weak and tired". Try telling that to decent British athletes like Helen Clitheroe, the 2011 European indoor champion, and Stephanie Twell, a 1500m Commonwealth Games bronze medallist, who were both lapped – yet still set personal bests.
Dibaba said: "In the middle of the race I felt a bit weak and tired but with the help of the crowd and all the buzzing I was able to gain momentum and get the record. Now I'm hoping to win a gold at the world indoors."
On this evidence Dibaba will also have outdoor records in her sights too.
Genzebe's elder sister Tirunesh, the Olympic and world 10,000m champion and world record holder in the 5,000m, will be looking over her shoulder – or even into the distance – in the months ahead.
Image By the Guardian (Photograph: Matthew Childs/Action Images)