Ethiopia and Somalia Sign Cooperation Agreement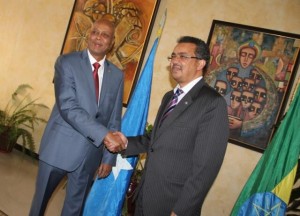 Ministers from Ethiopia and Somalia have signed an agreement to promote collaboration between the respective nations on security, business and information.
The agreement was signed on Friday, at a meeting attended by the Somali President Hassan Shiekh Abdiweli and Ethiopia's Prime Minister Hailemariam Desalegn in Addis Ababa.
Somali officials have revealed that Ethiopian security agencies will provide training for Somalia's police force.
The agreement will reportedly also result in collaboration between Somalia's National News Agency (SONNA) and Ethiopian News Agency (ENA).
President Abdiweli extended his gratitude to the government of Ethiopia for her contribution towards peace keeping efforts in Somalia.
He noted that "the battle against the terrorists will continue until we eradicate all of them from the country."
Last month, Ethiopian forces in Somalia officially joined the African Union peace keeping mission in the country, bringing the total AU force to about 22,000.
This agreement between the two nations is seen as a positive development between the historically antagonistic neighbors.
The Somali government continues to grapple with several challenges as it attempts to establish law and order in a nation which has been in a semi-anarchic state for close to 20 years.
Reports indicate that clan heads in the Baidoa and Bay region, northern Somalia, have lodged a petition with the government over plans to create a separate administrational unit.
Currently, there are four semi-autonomous regions in the federal Somali state; Puntland, Jubaland, Somaliland and Galmudug.
Photo from the Somali PM's Twitter account: Ethiopian Foreign Minister Tedros Adhanom and Somali President Hassan Shiekh Abdiweli in Addis Ababa.