24 Somali Pirates Convicted in Kenya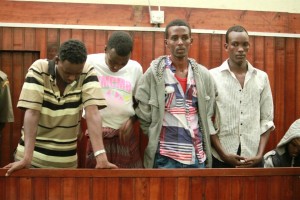 Twenty-four Somali men accused of piracy have been levelled with 7 years in jail by a Kenyan court last week.
The men were reportedly arrested in 2010 as they attempted to hijack an Iranian vessel, FV Ariya, just off the Gulf of Oman.
Richard Odenyo, the Senior Principal Magistrate, in giving his ruling said "I find that the serious count of piracy has been proved against all the accused persons and hereby sentence [them] to serve seven year jail term."
The prosecution established that the pirates captured the ship with the intention of using it as a 'Trojan horse' to seize other unsuspecting ships. The pirates had also reportedly planned to hold the crew hostage for ransom.
The suspects were also facing counts for being armed with volatile weapons including AK 46 rifles and Rocket Propelled Grenades (RPGs).  But the court granted the men the benefit of the doubt on two counts of being armed with offensive weapons.
Magistrate Odenyo said "The evidence was not sufficient hence lacks merit and I hereby grant the suspects the benefit of the doubt."
Jared Magolo, the lawyer of the accused persons pleaded with the court to be merciful noting that "They had paid for their transgressions through suffering and punishment for the four years they had spent while in custody."
He went on to state that ten of the pirates were shot during the rescue mission and some still had bullets stuck in their bodies. At least one of the pirates is reported to have appeared in court with bandages after having had one of his legs amputated.
Pundits say piracy cases are especially tricky and acknowledge Kenyan courts for their success in trying and convicting accused persons for piracy on international waters.
Somali pirates are being tried in other nations because of the ensuing war in the country. The Somali government has signed agreements with Seychelles, Mauritius and Kenya to trial suspected pirates, while Somalia improves its court and prison facilities in ordinance with the United Nations Office on Drugs and Crime's Counter Piracy Program. Upon its completion, authorities have revealed that convicted pirates will be transferred to Somalia where they would finish their sentences.However, all the convicts who finish their sentence in Kenya and other nations are expected to be repatriated back to Somalia.
Piracy off the coast of Somalia has been on a steady decline. According to reports, only about 20 persons were convicted for piracy in Kenya last year.
Analysts have attributed the decline to newly adopted security measures including onshore security personnel, heavy navy presence and private armed security aboard ships.
Photo by Xinhua/Mbuyu Cazeiya: 4 of the suspected terrorists on trial in Kenya last week.