Congo Eliminates Ethiopia's Walya Antelopes from 2014 African Nations Championship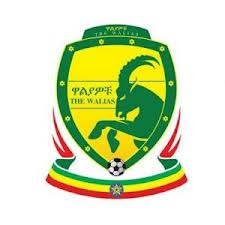 The Walya Antelopes of Ethiopia have been knocked out of the ongoing African Nations Championship (CHAN) in South Africa, after losing their second game in a row yesterday.
The Walyas lost with a lone goal in the game against the Red Devils of Congo, played at the Free State Stadium, Manguang.
Both sides had suffered defeats in their opening games and were in dire need of points to close the gap on Libya and Ghana at the top of the group.
On the 78th minute, Congo took the lead as Bhebey fired in from close range beating the Walya's goalie at last.
The striker was played in with a lovely chip from Binguila; timing his run to perfection, he powered the ball past the keeper with a nice volley.
Although both sides had ample chances to record more goals in the closely contested game, the scoreline remained 0 – 1 until the match ended.
In the other Group C game, the Mediterranean Knights of Libya were held in a 1 – 1 draw with the Blackstars of Ghana.
The Blackstars got the upper hand in the much anticipated game between the two leaders of Group C after recording an early goal on the 6th minute.
Despite numerous chances for both sides, no goal was recorded until the 72nd minute when the Mediterranean Knights scored from a penalty kick to equalize.
Currently, Libya and Ghana are both tied at 4 points each, while Congo sits at 3rd position with 3 points.
As it stands, there is no chance of the Walyas progressing into the next stage of the competition.
However, the Walyas are scheduled to take on the Blackstars of Ghana next week in the final round of the group stage encounters.
Later today, Group D teams are set to play their second round of group games.
In the first encounter, the Leopards of the Democratic Republic of Congo will take on the Panthers of Gabon – who will be looking to secure their first points of the competition. And in the second game, the Swallows of Burundi will battle against the Mourabitones of Mauritania.
Photo: The logo of Ethiopia's Walya Antelopes.