Ethiopia Signs Cooperation Agreement with Ghana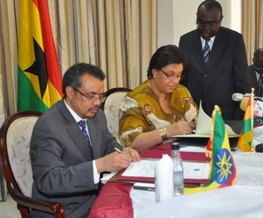 Ethiopia's Foreign Minister Dr. Tedros Adhanom and Ghana's Foreign Minister Hannah Tetteh have signed a cooperation agreement on Monday at the Foreign Affairs Ministry in Ghana.
According to reports, Dr. Tedros arrived with his high-powered delegation in Ghana on Sunday to reinforce the historic Ethio-Ghana relations.
Sources indicate that the agreement is a reaffirmation of the countries' commitment to reinforcing bilateral cooperation in commerce, agriculture, trade and security.
Although the two nations have had long-standing relations, the government's agenda is to deepen the relations in order to promote additional collaboration, remarked Ms. Tetteh.
On his part, Dr. Tedros lauded Ghana's rapid economic development and stability.
Ghana and Ethiopia have enjoyed long-standing diplomatic relations for numerous years, which they exemplified when both nations established embassies in each other's territory in 1959 after Ghana gained independence from the United Kingdom. Since then, the two nations have established and upheld close relations in every area of common interest, reports indicate.
The cooperation agreement reportedly encompasses a wide range of economic, political, and social issues including investment, foreign policy, trade, science and technology.
During a welcoming address, Miss Tetteh, Ghana's Foreign Minister, remarked that Ghana and Ethiopia had initiated continental unity in post-colonial Africa.
The Minister further stated that the common positions adopted by the two African countries in the global arena had contributed to peace, conflict resolution and security.
Dr. Tedros on the other hand, believes that effective collaboration between the two nations will foster exchange of ideas, while simultaneously fulfilling Dr. Kwame Nkrumah's dream of striving for continental integration and unity.
Dr. Tedros further expressed the need for further action and stated that the accord should serve as a foundation to develop a mutual ministerial council and aid the engagement of the countries' institutions. Meanwhile, Ms. Tetteh underscored the need to concentrate on areas of common interest in addition to sharing best practices.
In this regard, she cited the Ethiopian Commodity Exchange, which she stated was a continental accomplishment from which Ghana aspired to learn. Tetteh asserted that the agreement would develop formal consultation between the two nations, resulting in cooperation and strengthen their ties.
The agreement between the two AU giants also aims to cement their cordial relationships, observers say. Both parties described the agreement as an avenue to propel the healthy relations, which date back to the eras of H.I.M Emperor Haile Selassie I and Dr. Kwame Nkrumah.
Dr. Tedros conveyed his government's appreciation to the government and people of Ghana for the invitation and hospitality that he and his delegation received. On her part, Tetteh similarly thanked Dr. Tedros for his visit and was optimistic that his visit to Ghana would yield the intended goals.
Dr. Tedros highlighted the significance of taking suitable measures to implement the cooperation agreement. He also cited the successful discussions that occurred during the 50th OAU/AU celebrations. He revealed that these discussions had resulted in the cooperation agreement between the two countries.
During his trip, Dr. Tedros also made visits to the Kwame Nkrumah Memorial Park and the burial site of Ghana's former President John Ata Mills. The cooperation agreement is a demonstration of Ghana and Ethiopia's strong desire to strengthen their cooperation in every mutually beneficial area to take their relationship to a higher level, observers say.
Both parties therefore hope that this agreement will foster the interests of both nations and their joint aspirations for prosperity and peace in Africa.
Photo: Ethiopia and Ghana's Foreign Ministers, Dr. Tedros and Tetteh signing the agreement.