Kenya's Deputy President's Trial at The Hague to Resume on Monday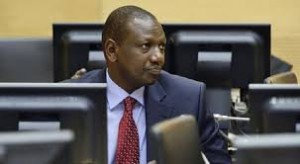 The trial of Kenya's Deputy President William Ruto is set to continue on Monday, January 13th, 2014, at The Hague, Netherlands.
The court has requested that he is physically present when the trial commences.
Last month, the court turned down Deputy President Ruto's request to be excused from being physically present at The Hague during his trials.  According to the Kenyan deputy's legal representatives, Mr. Ruto's trial at The Hague has continued to conflict with his constitutional duties as Deputy President of Kenya.
Many had thought this request would be granted easily in light of the recent amendment to Article 134 of the ICC's  Rules of Procedure and Evidence; which now allows serving leaders on trial to be physically absent from The Hague and monitor their proceeding via video link.
In turning down Deputy President Ruto's request to be absent from his trial, the Judges noted that he had put in the petition too late. However, a final ruling is yet to be made on the matter.
Vice President Ruto's trial at the Hague has been retarded by the prosecution's inability to present witnesses; so far, just 8, of the prosecution's list of 30 witnesses, have testified before the court.
This has led to the the case being adjourned twice.
The prosecution, headed by Fatou Bensouda, blame their inability to call witnesses to the stand on the fact that witnesses are either being threatened or bribed not to testify.
But Deputy President Ruto's legal team, headed by Karim Khan, insists the prosecution does not have a solid case, hence their inability to present credible witnesses.
Vice President Ruto, President Uhuru Kenyatta and journalist Joshua Sang are on trial at The Hague for their involvement in crimes committed during the 2007 post election violence in Kenya.  The incident at Kenya's Rift Valley region, which has been described as a crime against humanity, left over 1,000 people dead and many more displaced.
The ICC has come under immense pressure from the African Union since the trial of President Uhuru Kenyatta and his deputy William Ruto began last year. Many African leaders accuse the court of being a neo-colonial tool used to target Africans.
Although Kenya's presidents have complied with the ICC so far, they have not failed to note that the ongoing trials undermine Kenya's sovereignty and interferes with their ability to dutifully fulfill their constitutional roles.
Last year, the African Union lost a bid at the United Nations Security Council to have the cases against President Kenyatta and his Deputy Ruto postponed for a year.
Photo: Kenya's Deputy President William Ruto at The Hague last year.