Uganda Evaluates Production Applications from Oil Firms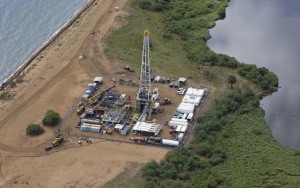 Ugandan officials have revealed that the country is in the process of evaluating up to nine applications for oil production at its Albertine Graben reserves.
London-based Tullow Oil is reported to have submitted eight applications, while Total S.A have submitted one and is expected to put in five more applications.
Mr. Ernest Rubondo, Commissioner for Petroleum Exploration and Production, said in a statement that officials were in the process of reviewing the petroleum reservoir plans and field development plans of the applicants.
There are reports that talks have already kicked off between Tullow Oil and the Ugandan government.
Although the presence of petroleum reserves in Uganda has been known since 2006, production has been postponed due to the inability of the government to reach an agreement with oil companies over several issues.
The Ugandan government only issued its first oil production license to China's National Offshore Oil Corporation last year for the Kingfisher discovery. The firm is expected to complete its construction works and begin oil production by 2018.
An unidentified Ugandan official is reported to have noted that the applications from Tullow Oil and Total S.A. are likely to be approved in the first half of this year. Meanwhile, both firms are due to complete the appraisal of discoveries at other locations in the country.
Uganda has Africa's 4th largest oil reserves; estimated at over 12 billion barrels in total.
Last month, the Ugandan government entered into a contract with China Pipeline Bureau, Marubeni Corporation and Vitol Group to build the nation's first refinery. The $2.5 billion refinery project, which is expected to be completed in 2017, will have a total capacity of about 60,000 barrels daily.
Photo: Aerial view of an oil exploration site in Bulisa district, Uganda. (Reuters)