International Criminal Tribunal for Rwanda Increases Sentence of Former Mayor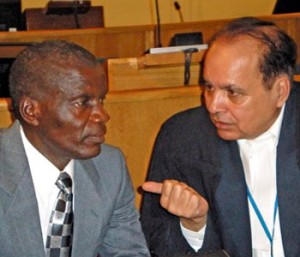 The UN tribunal for Rwanda has sentenced Gregoire Ndahimana, former mayor of Kivumu, western Rwanda, to 25 years in jail for complicity supporting the murder of about 2,000 Tutsis in the Notre Dame de la Visitation Catholic Church in Nyange during the 1994 genocide.
Ndahimana, who had been tried and sentenced to 15 years in jail in 2011, was attempting to have his sentence cut short through an appeal.
Judges at the International Criminal Tribunal for Rwanda (ICTR) charged Ndahimana, 61, with genocide and crimes against humanity for not preventing the bulldozing of the church in his province, which was filled with Tutsis fleeing persecution from their Hutu attackers.
"The appeals chamber overturns the jail term of 15 years and imposes 25 years in prison," Judge Theodor Meron said.
The Judges noted that as an official figure, his presence during the brutal operation by the police meant it was "tacitly approved." He is also accused of having actively conspired to assemble the Tutsis in the church building where they were eventually killed.
Ndahimana is reported to have celebrated the murder spree by drinking beer with other officials. About 4,000 other Tutsis are alleged to have been murdered in the mayor's province.
The former mayor is reported to have collapsed into his chair as his sentence was read.
Ndahimana is the third person to be tried for complicity in the destruction of the Notre Dame de la Visitation Catholic Church during the 1994 genocide. Gaspard Kanyarukiga, 65, a Nyange businessman, was found guilty of genocide in 2010 for his role in the church's destruction, he was handed a 30-year jail sentence. Athanase Seromba, priest of the Notre Dame de la Visitation Catholic Church, where the incident occurred, was sentenced to 15 years in jail in 2006. But like Ndahimana, he appealed in 2008 and had his sentence increased to life imprisonment.
The ICTR was created after the 1994 genocide by the UN Security Council to prosecute all persons found guilty of violating international law during the bloody episode. The court has remarkably continued to seek and trial several individuals implicated in the deadly outbreak of violence almost a decade later. Thus far, the court has completed about 45 cases, with 3 other cases ongoing and about 17 appeal cases before the court. Currently, only 10 people wanted by the court are at large.
Ndahimana was arrested in the Democratic Republic of Congo (DRC) by the UN and Congolese soldiers. Many Hutus are reported to have migrated to the DRC after the 1994 genocide, and like Ndahimana, several of them joined the Democratic Forces for the Liberation of Rwanda (FDLR) in fighting against the current Rwandan government.
Photo: Gregoire Ndahimana, left, with his Duty Counsel Bharat Chadha, right, during an initial appearance before the the International Criminal Tribunal for Rwanda (ICTR) in Arusha, Tanzania, Monday, Sept. 28, 2009. [AP Photo/Sukhdev Chhatbar]